Mammoet adds Tadano crawler for Brazil
By Alex Dahm10 November 2022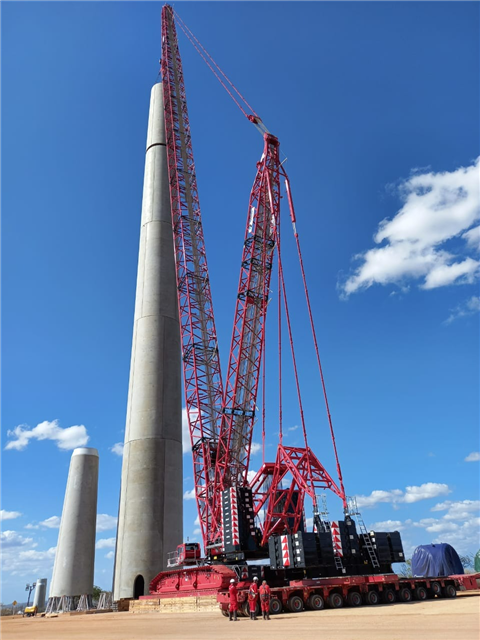 A new Tadano CC 38.650 onshore wind crane has joined the fleet of international heavy lift and transport specialist Mammoet.
The new 650 tonne lattice boom crawler crane was delivered during the third quarter of 2022 and will work in the wind energy industry.
Wind energy has received government investment to the point where earlier in 2022 wind energy was about 11 per cent of Brazil's total, making it the third most common source..
Larger and heavier turbines
As in other countries the turbines used to generate electricity are getting larger and heavier. This is especially due to the increased use of concrete for sections of the hybrid steel and concrete towers. The concrete sections are poured on site and end up being two to three times heavier than steel sections. To install them a large crawler crane typically has to pick and carry, tracking with them to the installation point.
Mammoet's new crane is on site at the Cajuina Wind Farm in the Angicos region, Rio Grande do Norte, in the northeast of the country. It will comprise 55 turbines with a total capacity of 314 Megawatts.
Erecting the concrete tower sections will be done using boom lengths ranging from 105 to 129 metres where the crane will be able to lift 255 tonnes.