Mammoet completes Chernobyl arch
By Alex Dahm26 August 2015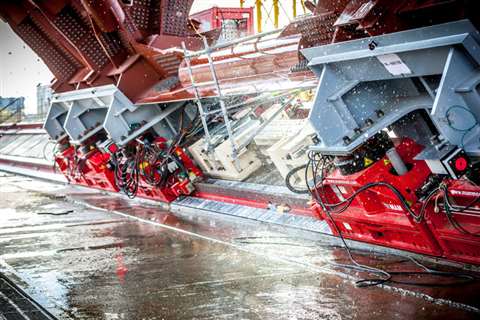 International heavy lifting and transport specialist Mammoet has connected the two halves of the New Safe Confinement (NSC) structure at the Chernobyl Nuclear Power Plant in Ukraine.
The giant arch sections were built offsite in an uncontaminated area before being brought together. The completed arch weighing more than 35,000 tonnes, will be skidded into position over the existing temporary sarcophagus containing the most heavily contaminated material in reactor unit 4 following the Chernobyl nuclear accident in the 1980s.
The arch is designed to provide a controlled, weatherproof environment and confinement for the solid radioactive remains of unit 4 for 100 years. Partial deconstruction of the old plant will then be possible inside the new structure.
The 19,000 tonne east arch section spans 260 metres, is 80 m long and 110 m tall. To move and join the two halves, Mammoet developed and built a skidding system using a Teflon (polytetrafluoroethylene) surface to slide the sections on. Each of the 56 skid shoes had a minimum capacity of 703 tonnes. They moved the east arch towards the west arch. Full remote control was necessary for the operator to control the lift, shift and movement from a safe position.
It took six hours to join both halves of the arch on 23 July 2015. Alignment tolerances were only 3 mm.
Mammoet is working for client Novarka JV which is now tightening approximately 1,000 bolts joining the two halves of the arch. The 165 m long completed NSC will have a span of 260 m and be 110 m tall. Skidding the NSC to its final position is planned for the final quarter of 2016. For this operation 116 skid shoes will be used. It is estimated it will take about a week to skid the arch 330 m.