Mammoet flies boilers
By Christian Shelton16 August 2018
Heavy lift and transport specialist Mammoet loaded four 140 tonne reformed-gas waste heat boilers onto the world's largest cargo plane – the Antonov AN-225 Myrna – at the Leipzig/Halle Airport in Germany.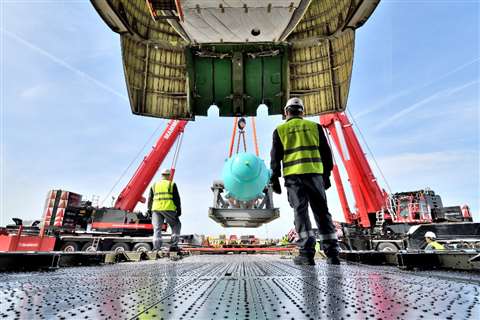 The boilers were first transported one at a time by their manufacturer from Berlin to a port in Aken via inland water vessels on the Elbe river. This was because bridges along the road route were not designed to take the weight of the heat boilers.
Mammoet then transferred the heat boilers from the barge to road transport using a Kirow MKZ 3000 dockside crane. The loads were driven to the Leipzig/Halle Airport where Mammoet moved the oversized freight onto the aircraft's heavy-duty ramp.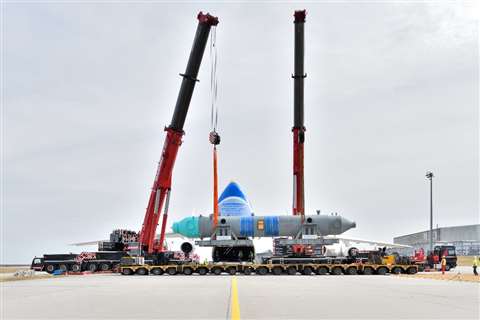 Each 20-metre-long heat boiler was tandem lifted from the transporter for transfer into the cargo plane. Mammoet used one 400 tonne and one 350 tonne wheeled mobile telescopic crane. Other mobile cranes were also used on the job, ranging from a 400 tonne capacity Tadano Faun ATF 400 G6 to a 750 tonne capacity Liebherr LTM 1750-9.1.
According to Mammoet, the Ukrainian Antonov AN-225 is the only aircraft of its kind which has an overall capacity up to 250 tonnes of freight and can load and transport a 20-metre-long, 140 tonne reformed-gas waste heat boiler. The boilers are part of the plant's heat recovery system.
Mammoet said the Antonov AN-225 takes off relatively infrequently, with the flight in April being the first cargo flight for the 30-year-old aircraft since it received upgrades between November 2016 and March 2018. The AN-225 has six engines, a twin tail and is the only one of its type.