Mammoet in for Damen upgrade
By Laura Hatton03 September 2014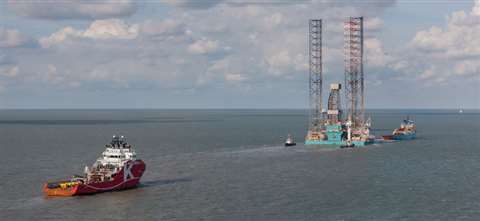 A Mammoet PTC ring crane was instrumental in a project to upgrade a Keppel Fels 'N' Class drilling rig by ship and vessel repair service provider Damen Shiprepair in Vlissingen, Netherlands.
The drilling rig is one of the largest in the North Sea. The upgrade included the extension of the three legs by 10 metres to 180 m. A five-yearly special periodic survey and bringing the rig up to standard for the AoC (acknowledgement of compliance) certification required by the Norwegian authorities was also carried out.
Owner Rowan Companies chose the Vlissingen yard to carry out the work due to its large size, convenient location on the North Sea and its suitable quayside, a spokesperson said. A Mammoet PTC crane and the Palfinger JUMP system were used there.
The PTC was assembled on special foundations and erected to a height of 200 metres. This configuration allowed the rig to remain at sea level, a spokesperson said. The leg extension pieces could then be lifted directly from the shore on to the legs for installation.
The working platforms were supplied by Palfinger. This allowed the engineers to move up and down the legs at heights of up to 160 m.
The upgrade project was completed in 100 days, thirty days less than originally planned.