Mammoet installs 740 tonne reactor
By Leila Steed07 January 2020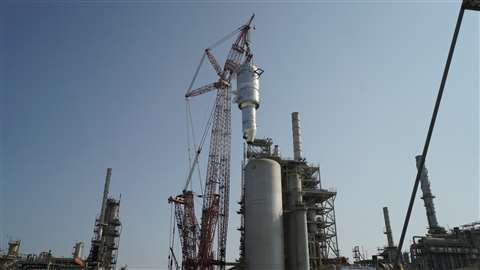 Mammoet provided heavy lift services at the Sohar Refinery in Oman as part of the oil plant's 2019 turnaround works.
Multinational conglomerate Larsen & Toubro contracted the international heavy lift and transport specialist to support the replacement of an RFCC reactor, external riser and associated components.
Mammoet used a 1,600 tonne capacity crane to remove the original reactor at the oil plant, owned by Oman Oil Refineries and Petroleum Industries Company (ORPIC). It then installed a new 740 tonne reactor measuring 37 metres long in its place.
Hamed Faqir Al Balushi, manager for project management at ORPIC, said, "The flawless execution of these critical turnaround activities demonstrates L&T's strength in planning and execution of such high-risk jobs. Kudos to the entire construction team for converting the plan into reality ahead of time, particularly engineering, manufacturing teams of L&T and the heavy lift crew of Mammoet, as the components went into the place as they were expected to. Excellent planning, execution and teamwork."
Mammoet, which installed the refinery's original reactor using a PTC-35 ring crane in 2005, said it worked closely with Larsen & Toubro to complete the project. As well as procedures, it collaborated on detailed erection and lift plans and procedures to ensure all the lifts could be carried out within a lifting height of 99 metres. According to the company, some of these were completed with clearances of just 500 millimetres.