Mammoet moves Marion dragline
Heavy lift and transportation specialist Mammoet has completed its first dragline relocation project in Australia. The Marion 8050 dragline, weighing 2990 tonnes, was jacked up and transported 61 miles (99 kilometres) on SPMT overcoming a variety of obstacles on the way. Mammoet said it safely completed the project within the deadline – saving weeks of time it would have taken for the dragline to move there using its own propulsion mechanism.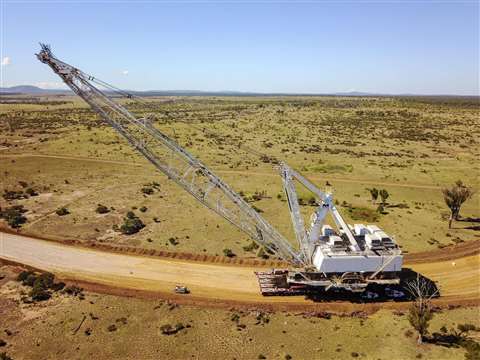 The Dragline being transported by SPMT to a new coal mine in Isaac Region, Queensland, Australia
The move was commissioned by CPB Contractors (CPB), a wholly owned subsidiary of Australian publicly listed company CIMIC Group. CPB undertook all civil works and engaged Mammoet as the jacking and transport contractor for the relocation. The goal was to move the dragline from one mine to another in the coal mining Isaac Region, Queensland, in the most efficient and economical way possible.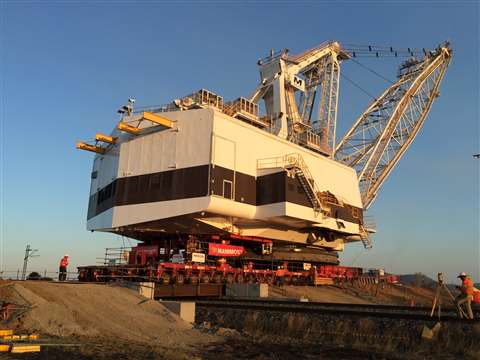 Crossing one of three railways
According to Mammoet, extensive route surveys prior to the transport identified numerous challenges. These included a 9.5 per cent incline and 10 per cent declines, seven river and creek crossings, three railway crossings and two highway crossings. Mammoet said the railway crossings presented a significant potential risk to the project schedule as there was only one 24-hour window each month when the rail lines were shut down for planned maintenance, allowing the dragline operation to cross. Ground conditions threatened the tight timescale for the operation to cross the first railway. However, by working around the clock Mammoet reported its team made it on time for the scheduled crossing.
Mammoet says it worked around the clock to get to the railway crossing in time
"We were genuinely very impressed by Mammoet's engineering expertise and their hands-on approach," said Tom Graham, CPB Contractors project manager. "We were very well supported by the wider Mammoet community out of Singapore and the USA. Their technical expertise coupled with the experienced SPMT operators from Australia and Malaysia is instrumental to their success."