Mammoet moves rock crusher
By Christian Shelton23 April 2019
Heavy lift and transportation specialist Mammoet transported a 690 tonne granite rock crusher and a primary conveyor across the A.R. Wilson Quarry mining site in Aromas, California, USA.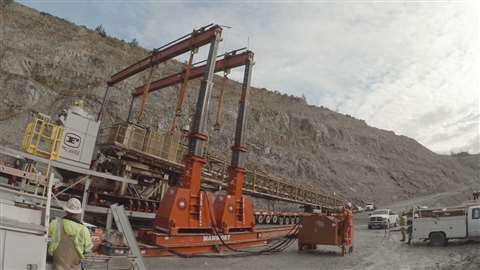 Delivering conveyor sections to the gantry
Mammoet was commissioned by mine owner Graniterock to move the equipment from the top of the quarry to a new location approximately 1,200 metres (4,000 ft.) further down the mine. Graniterock had previously attempted to drive the rock crusher downhill itself; however, the crusher experienced a loss of braking power and the operation could not be completed safely, Mammoet said.
Mammoet said it won the commission due to its previous experience in transporting mining equipment and because it proposed to transport the crusher in one piece on SPMT. According to Mammoet, the advantage of this over other methods proposed, including dismantling it, was that it could remain active until just hours before the move. Mammoet said this reduced the equipment's downtime and avoided any unnecessary wear and tear on the machine.
The rock crusher is one of just two drivable, rubber wheeled crushers like it in the world and the only crusher currently in use, Mammoet said.
Both items were transported on SPMT down slopes with a gradient of up to 8-10% in muddy conditions. According to Mammoet, using SPMT allowed for a controlled move as the SPMT's rugged tyres provided the necessary traction to handle the conditions.
The 152 metre long (500 ft.) primary conveyor was relocated first. Due to its length, it was broken down into four sections to facilitate downhill transport. Each section was then jacked-up and transported by SPMT to the new location. Once in place, a 450 tonne gantry helped position the old conveyor sections over a new conveyor before both were connected to form one larger unit, Mammoet explained.
The rock crusher followed, in one piece. The total travel time was under two hours, said Mammoet. The operation was completed on schedule and with zero incidents, Mammoet reported.
A video of the job can be seen here: https://bit.ly/2L0hJrZ