Mammoet partners with PortXL
Dutch heavy lift specialist Mammoet has signed an agreement to join the world's first port and maritime industry start-up accelerator, PortXL. This partnership enables Mammoet to collaborate with established businesses and start-ups active in the maritime sector – working in energy, ports, refineries, shipping and logistics. The end goal of PortXL is effect positive change within the maritime industry.
Mammoet said that through the partnership its experts will be able to provide specialist support to entrepreneurs and maritime start-ups. In return, existing initiatives within Mammoet will benefit from the input of external specialists and entrepreneurs, the company claimed.
By opening up channels for mutually-beneficial collaboration, Mammoet believes the PortXL platform will provide a catalyst for growth, for both it as a company and the maritime sector as a whole.
Mammoet's involvement with PortXL's activities starts immediately. PortXL is located in Rotterdam, Singapore and Antwerp, although technological breakthroughs will be sought from around the world.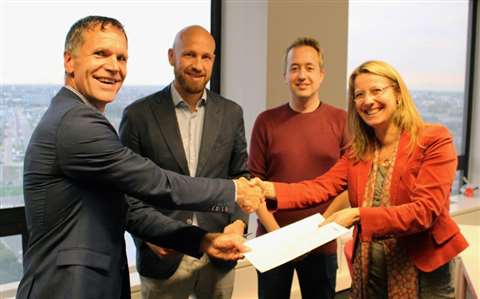 Paul Smits – chairman of the foundation board at PortXL (also CFO Port of Rotterdam), Mare Straetmans - PortXL managing director, Raymond Hannes - member of the foundation board at PortXL (also managing partner of DigiGurus), and Kirsten Bradley – director business development, Mammoet Europe
"We are proud to join such a great platform as PortXL," said Kirsten Bradley, director of business development at Mammoet Europe. "It will undoubtedly inspire us to develop further innovative solutions and bring new technologies and ideas to our business."
"We are honoured to welcome Mammoet among our partners and we hope that their invaluable contribution and expertise will help lift our programme towards new heights," said PortXL managing director, Mare Straetmans.
Kirsten Bradley – director of business development, Mammoet Europe and Paul Smits - chairman of the foundation board at PortXL (also CFO Port of Rotterdam) signing the agreement