Manitou announces new equipment, group initiatives
By Lindsey Anderson22 March 2011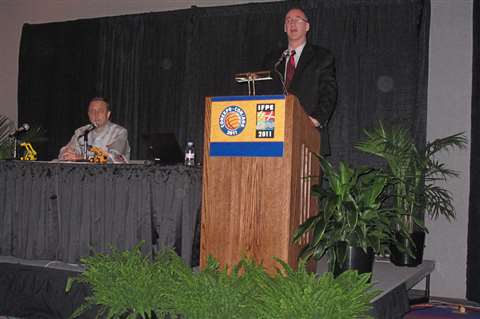 Improved market conditions have confirmed a recovery has begun in North America, said Manitou Americas said on the first day of ConExpo. "We're coming back into the black," said Dan Miller, president of Manitou Group's compact equipment division.
Miller said equipment dealers have started to restock after having record-low inventories in 2009 and 2010, and the demand from rental houses to refresh their fleets has gone up. The company also said residential construction is anticipated to show mild improvement with commercial construction "eventually improving next."
"These are all good signals that we're at the beginning of a growth cycle," Miller said.
Meanwhile at the show, Manitou North America and Gehl Company announced their combined group, Manitou Americas. The new group will host sales, marketing and support teams for Gehl, Manitou, Mustang and Edge brands in North America and Latin America. The Manitou Group will be home to three overall divisions - rough terrain handling, industrial material handling and compact equipment.
"Two years after acquiring Gehl Company, and with the worst industry crisis in the meantime... we are now acting as one team, to support all our brands, dealers and customers," said Jean-Christophe Giroux, president and chief executive officer, Manitou Group.
Manitou also used ConExpo to introduce a new compact telehandler at the show; the MLT 625. The unit features a lift capacity of 5,500 pounds, a maximum lift height of 19 feet, 3 inches and is "designed to accommodate tools," said Serge Boshe, vice president of sales and marketing, Manitou Americas. "This isn't just a lift and place machine."
For a full ConExpo access report, see the May/June issue of Access, Lift & Handlers.