Manitowoc forges ahead under new leadership
By D.Ann Shiffler09 September 2020
Aaron Ravenscroft, president and CEO at Manitowoc, is prepared for market obstacles and he is looking forward to better times
Aaron Ravenscroft's relationship with Manitowoc is serendipitous, writes D.Ann Shiffler, editor at ICST sister magazine American Cranes & Transport. Early in his career he was a sell side stock analyst and Manitowoc and Terex were among the companies he followed. During that time, he toured the Manitowoc facility and ended up with a Potain tower crane model. Who knew that some 20 years later he would be appointed to the company's highest post?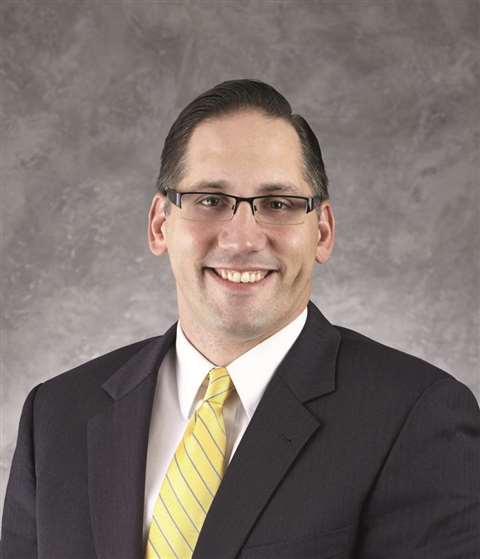 But Ravenscroft did not end up as president and CEO at Manitowoc Cranes serendipitously. Considered to be smart, ambitious and amicable, he was a part of a planned succession to former president and CEO Barry Pennypacker, he said.
Ravenscroft's resume/CV is impressive, with past jobs that include regional managing director at Weir Minerals at The Weir Group, vice president of the Industrial Products Group at Gardner Denver, vice president and president of the Process & Flow Control Group at Robbins & Myers and an analyst at Janney Montgomery Scott.
He earned his undergraduate degree from Bucknell University and an MBA from Carnegie Mellon University, both in the USA.
After the spin-off
Shortly after Pennypacker took the job at Manitowoc in late December 2015, he recruited Ravenscroft to join his management team in March 2016.
"I started the job on March 7, just after the spin," said Ravenscroft, referring to when Manitowoc Cranes and Manitowoc Foodservices were spun off as two separate companies. "I remember the day because it was the first day Manitowoc Cranes was an independent entity. It was just after our youngest daughter had heart surgery and our family had just gotten past such a hard thing."
Ravenscroft's first assignment was running the mobile crane division. Shortly thereafter he was tapped to run the tower crane division and moved to France. He was then promoted to vice president of cranes, and sometime thereafter the succession plan began.
"Barry Pennypacker and I had been talking about this for a long time," he said. "Not just this specific job. We worked together before Manitowoc."
Ravenscroft termed Pennypacker as "a turnaround guy at heart."
"He got us through the spin, and he restructured the business," said Ravenscroft. "We could be in a very difficult situation had he not made the difficult decisions that needed to be made. He led us through re-invigorating our product development process. He did what he came to do and achieved his objectives. He was ready to pass the baton."
In preparation for receiving the baton, Ravenscroft has been active in board-level work and participated heavily in investor relations.
"Manitowoc has established itself as a global manufacturing leader of cranes and lifting solutions, and it is an honour to assume the role of CEO during this important time in its history," he said.
While I did not get to sit down with Ravenscroft face to face, I was able to interview him via video conferencing, which may have been just as engaging. He was sincere and genuine, even as we talked about hard subjects. And while I have met him before at various events, I do not know him very well. On this day, he was confident, forthcoming and likeable. Ravenscroft already knows a lot of people in the crane industry, and has grown to love the industry. It is a good bet that once the pandemic is over and the global market has stabilised, better days are ahead for Ravenscroft and Manitowoc Cranes.
What is your focus the first 100 days, or at least through the end of 2020?
It is going to be interesting. There are some complications to deal with right now and through the end of the year. One is the Covid-19 situation. We continue to manage this very closely relative to the safety of our employees around the world.
We are managing our balance sheet and the company's liquidity. We have good liquidity. We have in excess of US$ 300 million to help us maintain through the hard times we may be facing through the Covid crisis.
The point is getting the business growing quickly when things turn around. We have a new organisation structure that is set to be announced soon. We are meeting with the Board for a review of our strategic plan. We are marching forward in a slow spot to be able to move forward quickly.
What is Manitowoc's ideal end game regarding the Department of Commerce Article 232 Investigation?
The ideal end game, I would say there are two elements [to this]. One thing I think that is important is that our message has not gotten out. You have to look at the cold, hard facts. We don't believe the current trade environment favours domestic manufacturing.
In the last 10 years, the cost of a 300 ton crawler has gone down 20 percent. Driven by foreign exchange rates and other factors, the industry has seen a significant increase in imports over the last decade while our export of cranes from the US has declined 80 percent. We do not believe that the US trade situation is fair and, as a result, our domestic workforce has been reduced over 40 percent. I do not think this is just Manitowoc, but for all US manufacturers.
At the same time, it is really important to put ourselves in the place of the American workers. For instance, our welders in Shady Grove. When you spend 40 hours a week welding in August and then you see your tax dollars being spent on products being built outside of the US, that is difficult [to face]. From our point of view, the current environment does not favour the local producer, the local product. I think we can do better in our trade environment. With respect to the Article 232 investigation, it is pretty complicated and unique. It has only been used under the Trump Administration and it is pretty much driven by the President at the end of the day. There is not much precedence for it.
I want your readers to know, the industry to know, the headwinds we have faced. We are not in favour of tariffs but we are in favour of levelling the playing field. We do not want to inhibit the market. We want to stimulate demand. This will mean more infrastructure spending. This may mean more American-made provisions.
We believe the most effective remedy would be for the President to take concrete steps to stimulate demand, particularly for US-produced mobile cranes, by enhancing Buy America and-or Hire America provisions for federally funded construction projects. These projects are funded by American taxpayers and should benefit the hard-working factory workers who pay those taxes.
We need to see increased infrastructure spending. It has been more than a decade since the US funded a major overhaul of our existing infrastructure. This would boost demand across our entire industry, and infrastructure spending is one of the few issues on which both major political parties agree.
Last, provide grants for local research and development in the crane industry. We believe that these remedies would help stimulate demand in the crane industry as well as advance the industry with new technology that is developed in the United States.
All crane companies are struggling with the economic impact of Covid-19. What do you see as the ideal recovery path for Manitowoc?
What is interesting is, as great as it would be to have a V-shaped recovery, that may not necessarily be the best path. Think back to 2016, when the market was down and then back up overnight. This hurt the ability to deliver product.
In the long run, I think we need to ease back into this and get the supply chain back up. We need to be able to manage ourselves [through an upturn]. If you are down 30 percent, you do not add 30 percent of production overnight. As much as we are super excited to see orders, I think it would be better to see a gradual return of the market.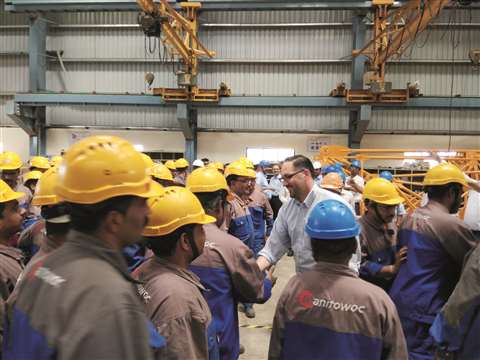 During your tenure with Manitowoc, you have been more sales orientated and customer facing. How do you envision interaction with Manitowoc dealers and customers? (Realising that with the Covid issue and travel bans, customer facing meetings are difficult.)
This is a personal relationship business. I have regular interaction with all the major players. We stay in touch. We talk, we email. Connectivity is very important for the industry. It is a business that is all about confidence, and I will be working with our customers to improve our relationships and help them improve their businesses.
It is lots more fun and meaningful to be face to face but, for the time being, it is Teams and Zoom calls and phone calls. I am really amazed. It seems that the industry lives on WhatsApp, especially in Europe. In Asia it is WeChat. There are so many ways to communicate. My goal is to build confidence in our company and our products. The crane industry is a small, heavily family-owned world.
With a lot of unknowns in the economy, how is Manitowoc approaching new product development?
For us, nothing has changed. We have continued to invest in product development in the same way we participated before the Covid-19 crisis. We are doing a lot more things virtually, but we are still doing all the things we did before. Typically, we will fly the entire product development team into Shady Grove to meet. We have found ways to do all the things we used to do to assure our new products are what our customers need. The Voice of the Customer (VOC) is still very important to us. All our plans remain on track, and we are eager to get out of this and add more resources to our product development strategy.
What do you envisage for the crawler crane line? Other models?
We recently launched the 100 ton and 150 ton crawlers, and we are looking at launching another model next year. When I look at the overall line up, I would like to spend more resources on the all terrain crane market. We are eager to develop new ATs. We have a couple more machines that are high priorities.
As I said, the VOC drives our innovations. This is what happens when you are talking to the crane owners. There is no shortage of ideas in terms of what they need. This also allows us to juggle our priorities and, if the market changes, we can make changes quickly. We have a good process in place – number of axles, capacities or boom length. We do not want to spend all the effort to launch a product and miss what the market needs.
Do you foresee any changes in the way that Manitowoc addresses quality control?
I think we have done a good job in terms of improving our quality control. Our focus is on reliability and building reliability into the crane.
[When you build a product] that has a boom that goes out the length of a football field, you can have problems. Four years ago we started using Ishikawa root cause analysis. This allows us not just to improve what we do on the floor but it starts with design. There is a long list of things we have done to improve our booms, for instance.
It is like anything else in the crane business. The better we get the higher the standards get. We have made good gains and we continue to make gains in quality. We are constantly looking at what we can do to further drive the reliability of our machines.
In the second quarter earnings call, there was a question about mergers and acquisitions. What is your thought process about expanding the company's reach through mergers or acquisitions?
This is something we have been working on, but we have not been able to get across the finish line. I think an acquisition is something we need to do. It would be a shot in the arm. There are some good acquisition opportunities in the crane business. We are excited to get back to normal business so we can do a deal.
We spent four years doing debt renegotiation. Now that that is done, it gives us a lot more flexibility. Prior to that, the covenants were so strict that we could not really entertain any acquisitions. We do have a dedicated thought process to acquisitions when the time is right.
What is your business philosophy?
We have to get a little bit better each day.
What do you to unwind in your leisure time?
I have four kids, ages 16, 14, 12 and 8. We are hopeful that things loosen up by ski season because we all love to ski.