Manitowoc launches Potain MCT 325
By Christian Shelton05 September 2019
Milwaukee, USA-headquartered crane manufacturer Manitowoc has launched the Potain MCT 325 to be sold across Asia-Pacific, the Middle East, Africa, Latin America, Russia and CIS countries. It is designed to replace the MC 310 model and deliveries start in September 2019.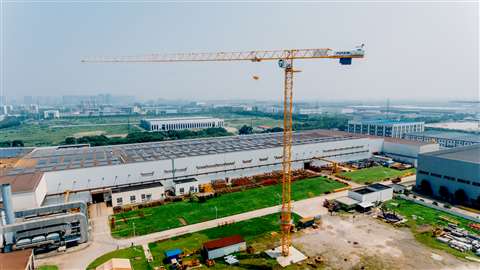 It is available in 12 tonne and 16 tonne capacity versions. Jib length configurations are from 40 to 75 metres, in increments of 5 metres. At its 75 metre jib end, the MCT 325 can handle 2.5 tonnes for the 12 tonne version and 2.3 tonnes for the 16 tonne version. The MCT 325 can be set up within 1.5 days, with the complete jib and counter jib erected in four lifts, said Manitowoc. The MCT 325 is designed to work with the 2 x 2 metre L68 and L69 mast systems.
The crane also has a new, square counterjib design; it's the first crane in the Potain MCT range to have this. According to Manitowoc, the jib and counter-jib can be erected in two lifts each, which means a greater choice of assist cranes can be used for the task. Dedicated sling points on the counter jib and transport brackets on the jib are designed to facilitate easier loading into the crane's compact transport configuration.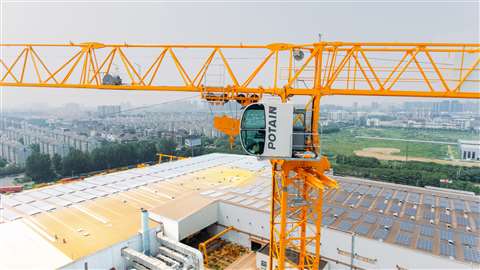 A range of hoist options are available
All hoist options have frequency-controlled drives. The 12 tonne version comes as standard with the 75 LVFC 30 winch with the option to upgrade to the 75 HPL 30. The 16 tonne standard version has the 75 LVFC 40 with the option to upgrade to the 75 HPL 40 or 100 LVF 40. The 75 LVFC 30, a 55 kW-rated hoist, has a rope capacity of 766 metres and can lift 1.5 tonnes at up to 114 m/min. The 75 LVFC 40, a 55 kW-rated hoist, offers a rope capacity of 637 metres and can lift two tonnes at up 90 m/min. The winches are available with a safety brake option.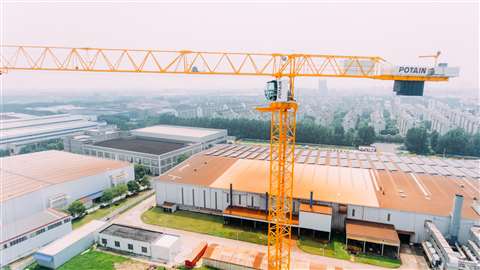 The crane has a new, square counterjib design
The company unveiled the new crane during an event at Manitowoc's factory in Zhangjiagang, China on August 29, where the 16 tonne version of the MCT 325 was displayed with its full 75 m jib.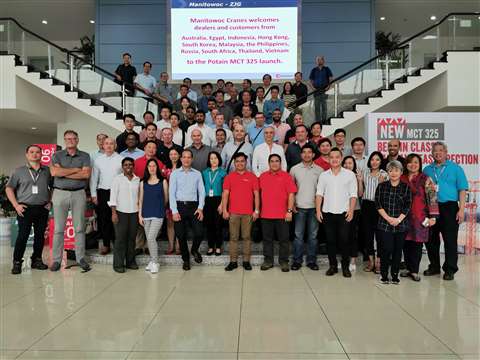 "Topless cranes like the MCT 325 are becoming the go-to solution for projects utilising precast concrete, which is an increasingly popular choice for the speed and simplicity it brings to job sites," said Kwong-Joon Leong, regional product manager for Potain tower cranes. "Topless cranes also bring speed and simplicity to projects thanks to their design which allows multiple units to overlap on site. The MCT 325 gives our customers a new choice in the 12 tonne and 16 tonne range. And with its standout 75 metre jib, we believe this new model will appeal to a wide range of companies and projects."