Manitowoc updates flat top crane for short-jib applications
By Hannah Sundermeyer06 June 2022
Manitowoc has unveiled the Potain MCT 565 A, a more compact version of the 32 tonne capacity MCT 565 M32 – the second-largest flat top crane produced at its Zhangjiagang, China facility. The MCT 565 was previously launched at the Bauma China 2018 exhibition in three versions with maximum loads of 20, 25, and 32 tonnes.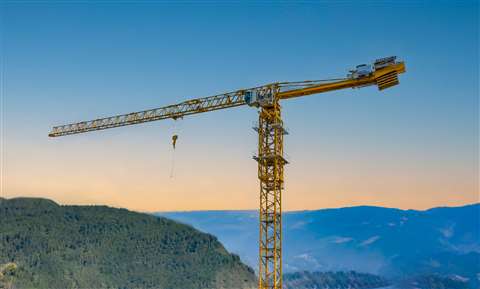 The crane's updated features have helped contractors in their drive to lift precast concrete sections and other heavy items as the construction process becomes more modular, the company said.
In addition to the 32 tonne version, the MCT 565 A is now available with a shorter jib and counter-jib, which makes it ideal for busy jobsites where several cranes operate within close proximity.
"Topless cranes are an increasingly popular choice on jobsites across Asia and elsewhere because of the efficiencies they offer when working alongside other tower cranes," said Brian Wang, senior vice president of emerging markets at Manitowoc. "The MCT 565 has demonstrated this through its exceptional lifting performance on a range of projects. We've also seen the emergence of these cranes spawn new ways of working in emerging markets."
The MCT 565 A can be rigged with a minimum of 25 metres of jib. This is 5 metres less than the 30 metre minimum required for the existing versions. The counter-jib too can be shorter, with just 15 metres needed on the MCT 565 A while still allowing the crane to work with up to 35 metres of jib. This compact footprint enables the crane's working area to be reduced significantly, while the load curve is also increased in the shorter configuration.
The first of the MCT 565 A cranes have already been ordered and will be delivered to Singapore in June, with further interest in the new option expected in the coming months.