Mantracourt takes JLG top prize
By Euan Youdale26 May 2017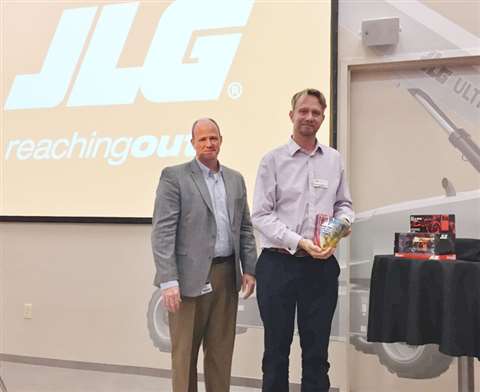 Sensor technology specialist Mantracourt has won JLG's Partnership in Action - Supplier Cost Reduction Idea Programme (Scrip) competition.
The UK-based company took home Scrip's top prize, the Platinum award, which celebrates cost reduction in high quality components
In this case Mantracourt developed a cost-effective specialised load sensing system by investing in its processes and production equipment and working with suppliers. It is used in JLG's scissors and boom lifts.
Robert Willmington-Badcock, Mantracourt CEO, said, "We were up against major players internationally, so to come out on top is excellent. The award is the culmination of a lot of hard work from our teams in the UK and around the world."
For over 40 years, Mantracourt has been supplying technology to OEM sensor manufacturers and produces high performance strain gauge, load cell signal conditioners and wireless telemetry.
A vital part of their success has been constant investment into in-house manufacturing processes and equipment, backed up by a highly skilled team. Mark Vierling, vice president GPSC, JLG Industries, said, "We are very proud that the Supplier Cost Reduction Idea Program (SCRIP) continues to generate such great results and believe that this award speaks to the level of dedication supplier partners like Mantracourt, place on mutually beneficial cost reduction efforts.""