MAS movie order
By Euan Youdale16 February 2018
Three Skyjack SJ 6832s on the Mission Impossible 6 set at St Pauls Cathedral last week.
UK TV and film rental specialist Media Access Solutions (MAS) has invested £2 million ($2 million) in new equipment, including 28 Niftylift booms and seven Skyjack electric scissors, which now takes its fleet to 100 machines.
The Nifylift order comprises of four HR15s, five HR17, 11x HR21s and eight HR28s, all being hybrids and taking the HR28 hybrid fleet to 11 units. The Skyjack scissor order is for four 3219s, two 3226 and one 4626.
Tim Kendall, Bastock director of MAS said, "Niftylift and Skyjack have supported us from day one and we see them both as key to our growth.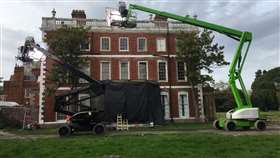 "These new machines are now helping us to get our rehire costs reduced, as we can now offer our own bespoke service with our own fleet. We are very grateful to Niftylift and Skyjack for seeing the opportunities within our business and the niche market we work in.
"By the end of the year we aim to have a fleet of 200 machines to help facilitate our healthy media order book."