Mast Climbers: Up and coming
Mast climbers have a long way to go before they are a truly global product, but the sector holds great promise in established markets like North America, where there is an attempt to expand its rental market and in emerging nations where mast climbers are in their infancy.
For many manufacturers, the development of existing products is the way forward in terms of creating greater sales potential.
US-based Hydro Mobile's latest model is the S Series, now further enhanced to offer a transport platform configuration. It provides 4000 pounds (1818 kg) capacity and a climbing speed of 40ft/min (12m/min) using an electric rack and pinion drive system.
"We have been working hard to update some of our existing models to further improve performance," says Kevin O'Shea, director of safety and training at Hydro Mobile.
The option of the transport platform configuration in either the Hydro Mobile S Series (electric rack and pinion) or the F Series (gas powered hydraulic rack and pinion) provides a range of configurations and power options to suit an array of industrial and construction environments. Additionally, the control panel offers the ability to control unauthorised operation, can be used to adapt safety parameters to configuration changes and presents operators with a range of safety alerts for safe operation and fault finding.
Concerning future products, Mr O'Shea comments, "Owners always want more speed and capacity but one affects the other, generally the higher the capacity the slower the speed. Of course most things are possible but when potential owners analyse the combination of speed, capacity and price the equation becomes a lot tougher.
"Our product development committee is working hard on increasing productivity in our current models and that includes important decisions on the capacity/speed equation, but it also includes considerations such as ease of operation, ergonomics and other such improvements."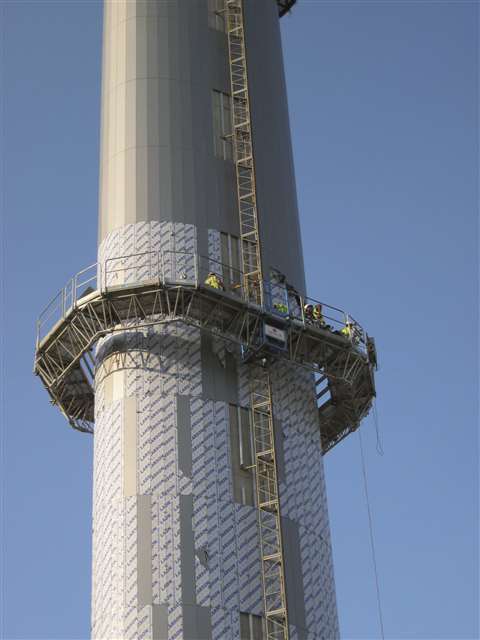 Nevertheless, there is a sentiment in the MCWP industry that seems more relevant than in other related industries, explains Mr O'Shea - 'If it aint broke, don't fix it'. "Over the years manufacturers have developed control aspects for mast climbers which have had varying degrees of success. Where booms and scissors are essentially access platforms, the mast climber is predominantly a work platform and on many occasions the work being done from the platform is heavy work."
Busy platforms
For example it's not unusual to see four masons' crews, pallets of brick, tubs of mortar, a tool chest, and a material hoist on a unit. "With this amount of activity on the platform sophisticated control systems are difficult to protect from damage, so a delicate balance of sophistication, control and robustness is the key to success. Mast climbers are far more affected by productivity issues than other types of access so ergonomic design is really important," says Mr O'Shea.
"Simple but effective controls, an ergonomically advantageous system which provides both high productivity and safety, and a product which is easy to erect and dismantle, are critical aspects."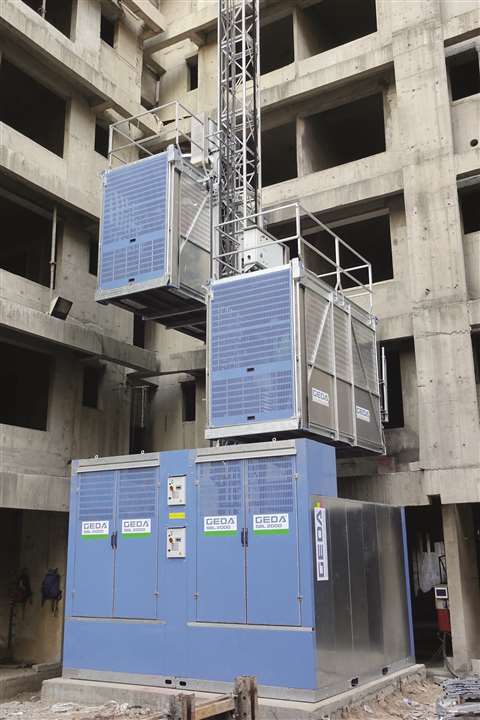 Founded 14 years ago, Klimer Platforms has gradually added to its product offerings while slowly expanding its footprint across Canada and the US.
It has a similar focus when it comes to product development. Most recently it acquired the manufacturing rights for the Hydek mast climbing work platform. These drive units are the backbone of the busines, it says.
The company's plan is to build on the strength of these drive systems with enhanced platform innovations for materials handling, loading and user safety.
It will begin production of the next generation of Hydek in the second quarter of 2017. The product line will be re-designed to provide greater ease for operation, increased efficiency and safety for users. "We plan to enhance the platforms' design," says founder Jay Gordon. "We've consulted with users of Hydek, incorporated their feed back into the soon-to-be launched platform. Our goal is to bring Klimer's ease-of-use design into Hydek product, to create a dedicated masonry machine that travels smoothly and is easily operated."
Mr Gordon explains that throughout 2015 and 2016, the company has also concentrated on equipment rental and customised platform configuration markets with special emphasis on streamlining its business and improving the customer experience.
"We have significant market reach with five branches covering the eastern US seaboard to western Canada. 2017 will see us leverage the strength of our branch network with more equipment sales supported by our local market presence. Equipment sales are driven by our rental customers' success in growing their businesses. The strength of our equipment rests in our rental market where the market determines the next innovation, sets performance expectations for our equipment and proves performance and reliability."
Mr Gordon explains that mast climbers remain an underutilised part of the scaffolding industry. Educating customers on the efficiency, flexibility and project enhancement potential of mast climbers remains a mast climber industry challenge. "Ongoing proven performance will help us continue to find the balance between mast climbers and traditional scaffolding in the market as mast climbers earn their place in the scaffolding industry."
He adds, "In 2016 we saw most of our projects in new construction which was a surprise to us. We expected to see more demand for access to restoration projects. We are starting to see more total project solutions instead of straight rental transactions. This means an increase in installations as well as an increase in engineering (for specific jobs)."
According to Mr Gordon, the market is continuing to evolve evidenced by general contractors who are increasing their use of mast climbers to support multi-contractor applications thereby streamlining their business model and overall project efficiency.
Spain-based Alba has worked to develop products with high capacities in terms of maximum work height, capacity of load and speed, aimed at emerging markets. Aitor Navarro, Alba general manager explains, "Likewise, and due to the trend in mature markets, we are carrying out a range of elevators for assistance in restoration works. Finally, in special applications, we have developed the crane operator service hoist."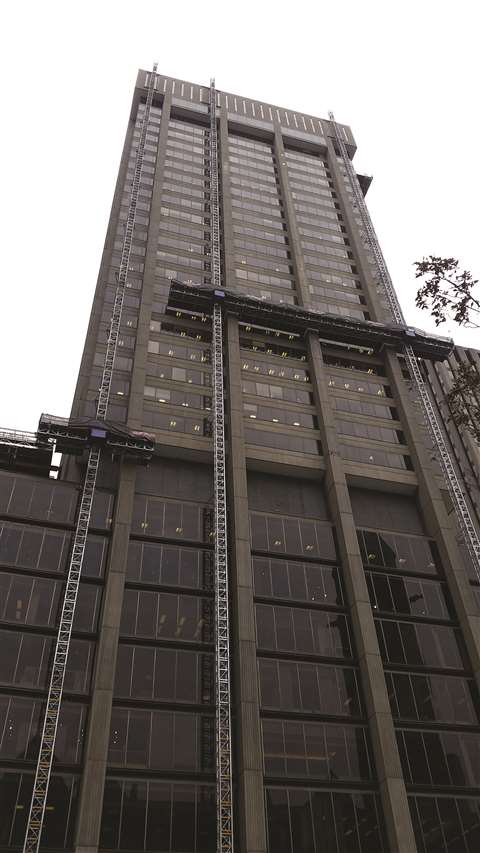 The PT1800F is a new transport platform with full CE approval. It uses the M550 mast, allowing the installation of two cabins up to 250 m, and is also used in the company's EDC2000 hoist for loads of up to 2000 kg or 22 people and speeds up to 60m/min, as well as the 2000 kg capacity MC-2000/F material hoist and the 38m long PEC150 work platform.
Cutting edge
The PT1800F has multiple technical and security innovations, such as an automatic reset parachute and a cutting edge electronic control, able to manage all security elements and precise movements of the platform. It also records all operational data, automatic grease nipples, etc., in line with the actual market trend to reduce maintenance works and downtimes while guaranteeing maximum security.
"This new platform will have multiple possibilities to adapt to the different worksites and necessities," says Mr Navarro. This includes two side doors, plus a lateral door, extra length modules, removable roof, and the assembly of two cabins for a 4000 kg capacity hoist.
Mr Navarro adds. "This new hoist completes the product line developed to serve work requirements in developing countries, where the lack of building plots and the concentration of the population in big cities has pushed construction of higher buildings, which requires equipment with the highest speed, versatility and load capacities."
Such machines are in great demand in Asia, the Middle East and projects developed in big cities around the world, such as the Alvear Tower in Buenos Aires, Argentina, or Dar es Salaam Tanzania Ports Authority's HQ Tower, where the company's 2000 kg double cabin elevators are working.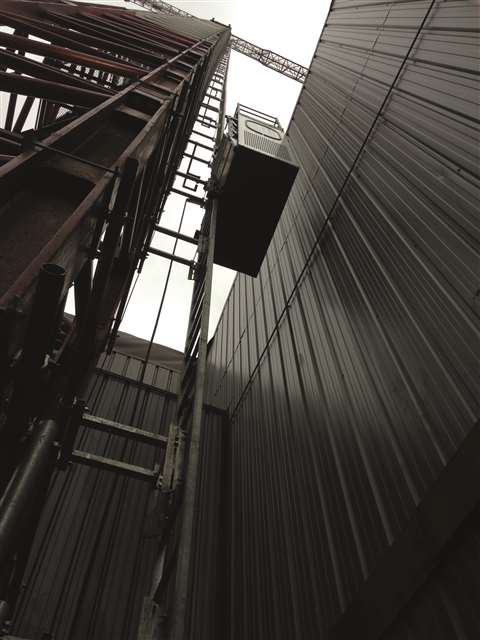 On the other side, Alba has developed a new range of elevators for assistance in low buildings and restoration works with adaptable solutions to the traditional scaffolding. "In this sense, we have created a transport platform for passengers and loads, the PT-450, with capacity of 450 kg or two passengers and we have updated our mast vlimbing work platform PEC-90, that reaches a maximum work height of 90 m, and also in twin mast configurations the platform can get up to 23 m long with a load capacity up to 2.100 kg. "At the beginning of 2017 we are going to reinforce this line of products with a builder hoist for materials with capacity of load of 200 kg with rack pinion system, over-speed parachute with auto-recovery and turning cage for both sides."
Finally, Alba has developed the new EG-250 operator service hoist, for tower cranes, suitable for most cranes in the market. It allows secure access of the operator to the cabin on top of the crane, according to EU requirements.
Klimer is currently supplying a full access and material handling solution for a 47-storey tower retrofit project. The iconic Canadian department store located in the heart of downtown Toronto was built in 1968 and was in need of exterior structural upgrades and a complete facade restoration. Klimer's project scope was to design, manufacture, supply and install material handling and access equipment.