Max Bögl builds Lahn Valley Bridge
By Laura Hatton02 February 2015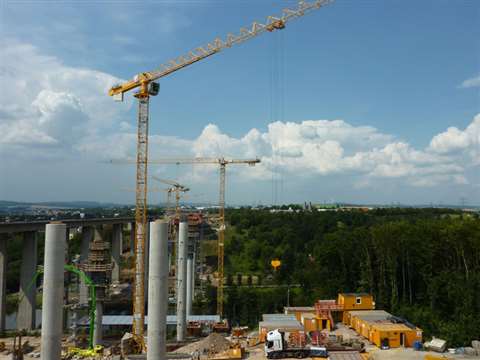 German construction company Max Bögl used six Potain tower cranes to help with the construction of a new bridge on the A3 main road near Limburg, Germany.
The cranes were delivered by Max Bögl's subsidiary company, Max Bögl Transport & Geräte. On site are three flat top Potain MDT 222 with tip heights up to 76.2 metres and operating radius up to 60 m. Two of them are mobile and one has been erected stationary, a spokesperson said.
Also on site is a stationary Potain MD 150 with a tip height of 29.8 m and radius of 55 m, and a Potain MD 235 J12 with a tip height of 35.4 m and a radius of 54.8 m. A flat top Potain MDT 268A J12 with a tip height of 63.1 m and a radius of 60 m has also been erected and is being rented from Manitowoc's fleet for 15 months.
The construction of the new Lahn Valley Bridge also includes rerouting the freeway and installing a noise barrier.
"The foundations of the new bridge are bored pile foundations, but the abutment head will be poured, so two auxiliary piers are needed for this," a company spokesperson said. "They will be erected by a slip form method next to the future structural piers and after completion of the abutment head, two shoring structures will be built on it."
The new road is being built in both directions. Once the track towards Köln (Cologne) has been completed, the Potain cranes and auxiliary piers will be used to construct the second bridge's superstructure. For the track towards Frankfurt, the cranes will be moved on to a rail system.
Herbert Wieseckl, department manager for structural engineering technology at Max Bögl Transport & Geräte, said, "Due to the special job site conditions here with a busy freeway and a railway at the south shore, all cranes had to be equipped with an operating limit system."
Manfred May, site manager in Limburg, said, "At such tip heights, the load duty cycle performance is important. Therefore, the cranes have been equipped with the high performance 75 LVF hoist and all cranes have a system for rescue from height. Each crane operator has been trained for this to ensure safety. Also, concrete pumps can only be utilised up to a certain construction height so some concreting work was done by the cranes. With Potain cranes, we could pour up to 18 cubic metres of concrete an hour. That's quite an accomplishment."
The old Lahn Valley Bridge was built in 1964 and is about 400 m long and almost 60 m tall. It is used by more than 100,000 vehicles a day. Once the new bridge has been built, the old Lahn River Bridge will be demolished.