Maxim designates tower crane HQ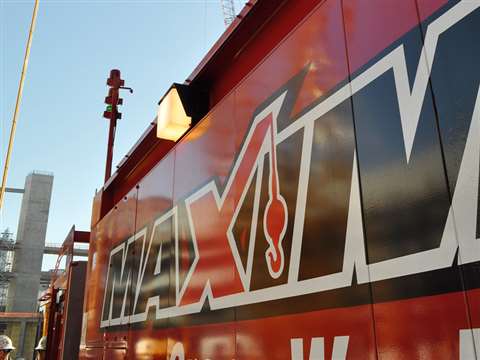 Leading US crane rental house Maxim Crane has strengthened its Florida tower crane position by designating its Davenport, Florida operation as the Center of Excellence for its tower crane operations in the region.
Maxim has madeit the tower crane operations headquarters for the Florida and Southeast Region. This will allow Maxim to be more strategically located to customers from Tallahassee to Naples with a targeted focus on the Tampa Region along the Gulf Coast of Florida.
"Maxim Crane has always held a very strong position in the Florida region regarding tower crane projects," said Scott Brandstadt, vice president of sales for tower cranes. "Our strategically located branches in South Florida and Central Florida have allowed us to provide the safety, service, operated rentals and engineering services to support our customers throughout the state. We have made a very customer focused decision to ramp up the facilities in Davenport as part of our continuous improvement process here at Maxim. We have increased the amount of factory trained technicians, spare parts, refurbishment operations and sales force to meet the continued demands of our customers in the region. Our ability to provide service via our national 'hub and spoke' system will be significantly improved with the additional services that we can now provide from the Central Florida and Tampa locations," added Brandstadt.
"Florida has always been a core component of the Maxim Crane Organization and our long-term growth strategy," said Frank Fioravanti, vice president of the Florida region for Maxim. "We have been here through the good times and the tough times, but we have always been here for our customers and team members. We have always been able to partner with our customers over the long run to ensure that they have the resources and support they need to remain profitable and competitive during every phase of the building cycles. The enhanced operations in Davenport will allow us to focus on up-time, reduced freight charges, improved response times and 100% turn-key solutions for tower crane projects throughout the region. We believe that the addition of the 'Center of Excellence' for tower cranes based at the Davenport Hub will enable Maxim to continue to provide the levels of service and support required by our customers as we continue to expand our fleet and services, especially along the Gulf Coast of the State," said Fioravanti.
"Our team in the Florida and Southeast Regions have always been customer focused groups. We have the right team, the right equipment and the laser focused approach to 'customer first' thinking that our clients deserve and require in today's environment," said Frank Bardonaro, chief operating officer for Maxim. "Brandstadt, Fioravanti and Matt Hyden, VP of the tower crane division for Maxim, identified a need to improve the service and fleet offerings for our Tower customers as we continued to expand in the Southeastern USA, and especially, Florida. Our ability to support our fleet of nearly 400 tower cranes required a targeted approach to the region and the Davenport location is strategically located to ensure our customers that Maxim can be anywhere in the state within hours, not days. The goal was to improve safety, service and sales activities for our customer's projects. The new Tower Crane Center of Excellence in Florida will provide the service levels needed to compete in today's market as well as provide our customers with improved pricing for freight, erection and dismantlement across the state," added Bardonaro.
"It has been exciting to integrate the Maxim, AmQuip and Crane Rental Corporation teams around the country, and especially in Florida," said Hyden. "We know that our customers have a lot of choices, so we focus on providing them with every type of support they need to go from the pre-planning stage to the 'topping out' phase of the project. Our in-house engineering, multi-million dollar parts inventory, factory trained technicians, support cranes and best in class sales team provides our customers with a true "one-stop-shop" for every phase of the tower crane project," added Hyden. "We are excited to have the newly dedicated Tower Crane Facility in Central Florida, as it complements our Birmingham, Atlanta, Miami and Cincinnati Tower Crane Hubs in an accretive manner," said Hyden.