McCloskey presents new feeder stackers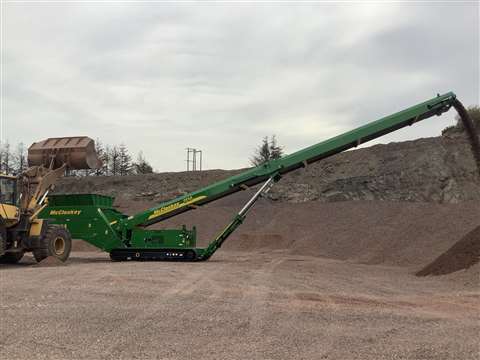 Equipment manufacturer McCloskey has launched a new feeder stacker model designed for the C&D waste and recycling industries.
The SF50 model is powered by a CAT 2.8 engine and can process up to 500 tonnes of material an hour. It also has variable speed control that stops material build-up and helps maintain a steady flow of materials.
According to McCloskey, the SF50 is one of the most productive and portable in its product category. It features a 15.2 metre (50 ft) main conveyor with a 1.0 m (40 in) wide belt that can handle and stockpile a range of materials including C&D waste, aggregates, coal, sand, gravel and topsoil.
The new feeder stacker, which includes a fuel-efficient hydraulic system, also has a hydraulically adjustable discharge height of up to 6.5 m.
The manufacturer said the tracked model could offer flexibility on-site, as it can be moved around the jobsite and compacted for transport on a low loader or in a 40 ft cube container.
McCloskey is offering the SF50 with a range of power options including diesel/hydraulic, electric/hydraulic and diesel electric.
A number of different belt types, hopper liners and other options such as complete remote control and a two-deck vibrating grid with remote tipping are also available for the model.