McGee invests in safer truck fleet
United Kingdom-based specialist contractor McGee has invested a further £2 million (US$2.6 million) in its truck fleet to increase road safety, exceed environmental compliance, and optimise operational efficiency.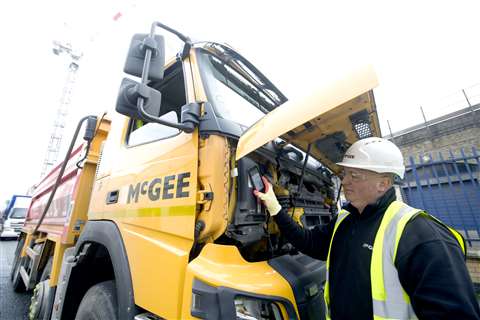 McGee, which is headquartered just outside London and decontamination, asbestos removal, civil engineering, construction and recycling services as well as demolition, has taken delivery of six new tipper lorries.
A further 14 tipper, skip and plant lorries is due for delivery in the next two months.
The company says its new safety-optimised vehicles represent a continued upgrade to its FORS (Fleet Operator Recognition Scheme) Gold accredited fleet.
The Scania-Thompson tipper lorries feature nearside lower door windows to enhance the driver's view, and side strobe indicators to help vulnerable road users clearly recognise and see when the vehicle is turning.
The strobe indicators have been designed in partnership with Nottingham Trent University (NTU) and are timed with the vehicle's existing indicators. Having worked on the project for a year, McGee is the first operator to fit and install the indicators across its new fleet.
McGee's lorries are fitted with many other safety features as standard, in addition to the manufacturers' specifications, including their in-house-designed vehicle inspection mobile app and traffic light vehicle weigh loading indicator system.
Using the bespoke app, all drivers are required to carry out a 360° physical inspection of their vehicle every morning. It is fully auditable; driver authenticated and quickly and efficiently identifies vehicle defects, while its automated reporting is said to ensure compliance and total records management.
The McGee weigh loading indicator has been designed to ensure safety, full compliance and optimal efficiency. The indicators tell machine operators when the vehicle is at its maximum carrying capacity – ensuring that vehicles do not leave site overweight and full road safety compliance.
But equally, and as important, it is also says that they are also not underweight. Lorries leaving site underweight increases vehicle movements due to inefficiencies, with knock on environmental impacts if the number of vehicle movements increase.
"We continue to invest a lot of time and resource in our commitment to safety, environmental impact and efficient fleet management," said director John McGee.
"The side indicator is an exciting innovation and is another step in our journey of continuous improvement to enhance road safety in London.
"By working closely with vehicle manufacturers and academic partners, we have been able to deliver a best-in-class fleet."
The new lorries will become part of a 50-strong fleet of heavy goods vehicles operating across the UK capital to service McGee's construction projects.