MEC boom and scissor innovations
By Euan Youdale17 March 2020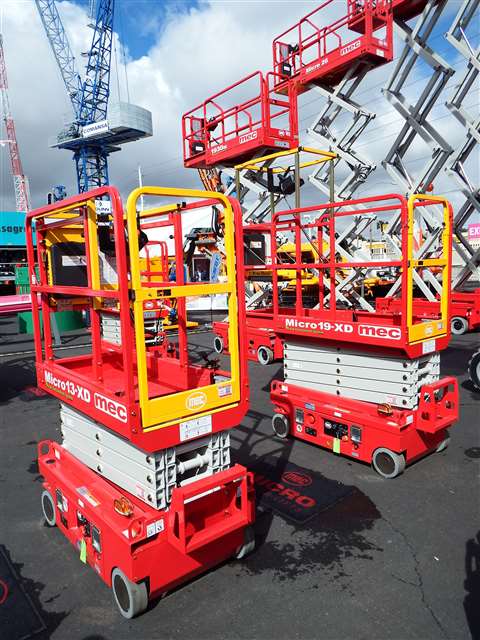 MEC was showing a new boom and micro scissor solutions on its stand at ConExpo last week.
The 12.2m (40ft) working height 34-J boom telescopic boom is designed to be lightweight, at 3,630 kg (8,000 pounds), and compact, meaning three units can fit onto a standard-sized truck. The idea is that the machine offers a less expensive alternative to a standard 40ft boom, or even a standard 34ft boom, said the manufacturer. Ultimately, this provides a better ROI (return on investment).
Other features include a 1.5m (5 ft) jib, with 135 degrees range of motion, as standard. Also as standard is a 72 inch platform including three-sided entry with swing gate, sitting above a 4WD drive and oscillating front axle, with rough terrain tyres. The prototype unit on the stand at ConExpo was offering an 8m outreach but MEC said it was hoping that would be increased on the production model.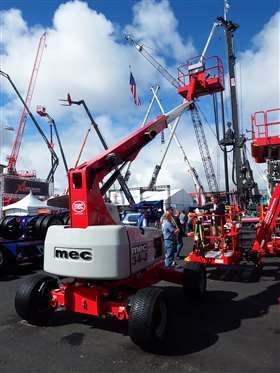 MEC also presented its Micro13-XD Micro19-XD (Xtra Deck) micro scissor. The patent pending design on these 6m (19ft) and 7.6m (24.4 m) working height machines literally offers a 22 inch (56cm) wide extra deck that can be raised to 20 inches (51cm) above the platform, which allows access through ceiling panels. Guardrails on three sides also slide up to meet US regulation height with a fourth side swinging gate rail, allowing both hands to complete the task. It can be used with a rollout deck that's extended or retracted.