MEC Interview: Striding out
By Euan Youdale29 June 2017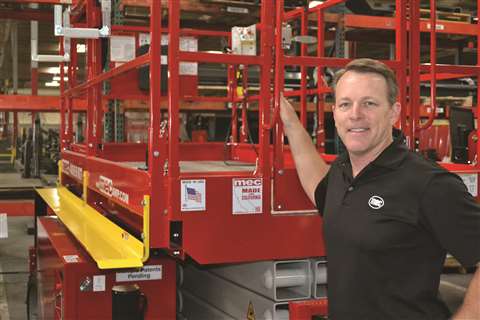 MEC (Mayville Engineering Co.) started producing Aerial Work Platforms in 1976 and has been a pioneer in the access industry ever since.
This year the company, based in the US and now officially named MEC Aerial Work Platforms, is celebrating its 40th anniversary. With four decades of innovation under its belt, the company has exciting plans for the years ahead, including a push into the export market.
As company president David White explains, "I am not sure if the industry is entirely aware, but MEC started producing scissor lifts in the late 1970s and conceived the first pothole protection system. It chose not to enforce any patents and in effect gave it to the industry - pothole protection systems you see today were originally conceived by MEC."
Then in 2002, C-MEC (California Manufacturing & Engineering Corp) acquired MEC's AWP division, starting its own production in 2004, before adding its now trademark 'specialty products' and booms to the product line.
Mr White joined the access industry in 1983 at another North American company and was ideally placed to observe MEC as a separate entity. "I conceived MEC at the time as a company that had some innovative ideas, I think they were a strong regional player in the north east of the United Sates. I don't think they had a strong presence overseas but had a good reputation of innovation and well manufactured products.
"We took those philosophies and expanded it into larger rough terrain scissors and now we are expanding that to the boom market as well."
In recent years the company's focus has been growth in the North American market, and while this remains firmly the case, MEC is "aggressively" targeting overseas territories, in particular Europe and the Middle East.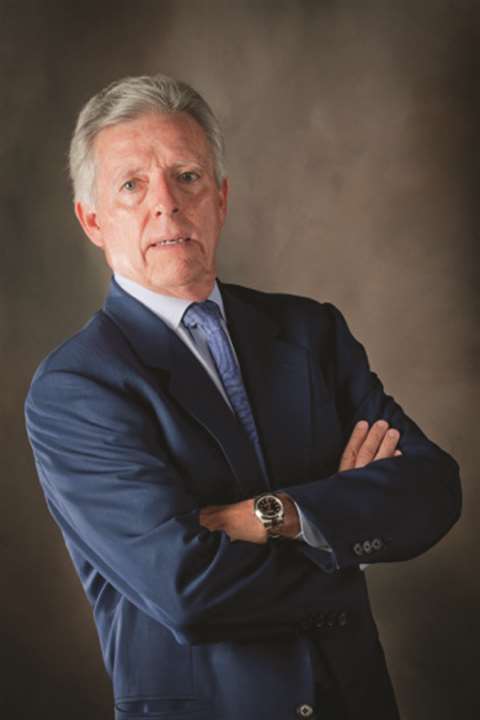 Focused team
In May MEC confirmed that Patrick Witte, who joined the company in August last year, as its new vice president of business development. The appointment coincides with the departure of Jim Tolle, who has gone on to form new aerial work platform manufacturer GMG. (See the interview with Mr Tolle in the May issue of Access International).
Mr Witte has more than 20 years of international business and has been responsible for developing new business within the global rental sector with some of the world's largest companies, including Genie. "This will be a fresh start for MEC internationally and I look forward to building the team that can deliver on our global goals," says Mr Witte, "It is a very big part of our strategy going forward."
The plan is to approach the export market in a different way to the past. "We are not taking a shot gun approach to it. We are selective of the markets that we want go into," explains Mr Witte,
"ConExpo was really effective because that's become such an international show and I think we were all very encouraged by the number of international clients that came to see MEC
in Las Vegas. We seem to be getting a lot of attention because of the expanded product offering that we have got."
The company introduced a new line of scissor lifts at The Rental Show, which took place in Orlando, US, in February.
The DC line of slab scissors offers a 13ft micro slab 1330SE through to a tall 45ft compact unit, the 4555SE. The family will consists of 19ft, 26ft, 33ft and 40ft units.
Product expansion
Product launches have come from opportunities seen in two segments: the 13ft working height micro class with its 1330Se, and a tall slab scissor, in the 40ft segment. "We didn't think it would be strategically good for us to offer something comparable [to the market], so we introduced the 45ft - 4555SE - and our customers have seen success."
Now the company has completed the line with the 19ft, 26ft, 33ft and 40ft units. "Our customers have seen advantage from the direct electric drive. Our products are running well and have effective duty cycle in that category."
Mr White adds, "We did have a range of slab products that we stopped producing a few years ago after the downturn in the industry, and focused our efforts on specialised products. We recognised the volume opportunity in the market in that core segment but we knew we had to approach it differently."
That time has come and although MEC will still be as active in the specialised field, it has already ramped up production at its Californian plant with the new scissors and says product sales are set to increase 70% this year, compared to 2016.
Two new scissors and a boom and will follow later in the year, specifically at launch events planned for September. Although we will have to wait for more details, all three will be core mainline products, rather than specialist.
Mr Witte explains, "Despite being core products they will be feature rich, which will differentiate us from our competitors, just as we have with the full electric drive in the slab scissor line."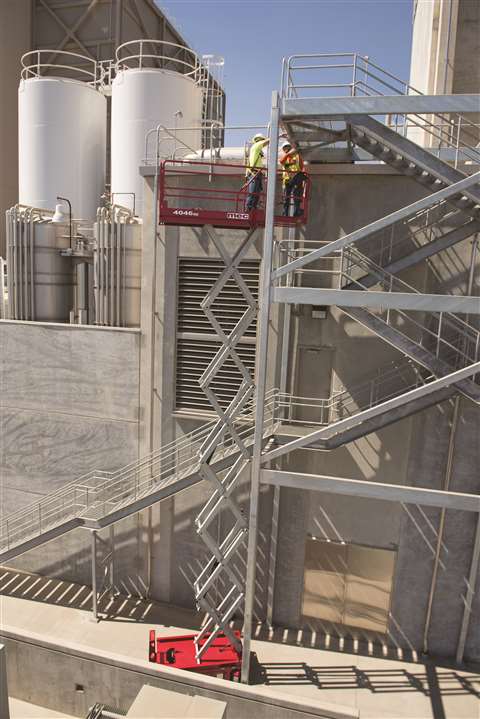 As mentioned, capacity has been scaled up to accommodate these higher volume products. "We have vastly improved in that regard. Our capabilities today are far better than they were 12 months ago."
To achieve this, there have been dramatic layout changes to MEC's facility and an improved scope of sourcing. "In the past we have purely been a build to order business," says Mr White, "and we have now transformed into a more classic manufacturer - we build to a forecast. And we have been fortunate to have advanced purchase orders, which gives us a strategic advantage - it gave us the ability in our planning to procure those material and set our production levels and forecast additional demands."
Both are optimistic that dramatic growth that will continue over the next five years, although not quite at the heady 70% rate. "Those growth levels are reduced; our expectation for the years ahead will probably be in the 25-30% growth range. Some of it comes from gaining market share, some of it comes from product expansion."
All this will ultimately mean a plant expansion, forecasted to take place in 2019, using disused land at its current location.
Taking opportunities
Looking internationally, a small percentage of sales are currently overseas, but the company is determined that will change. "We feel that a degree of diversity is important for our long term stability and growth. There is a lot of optimism in the North American market. And, although North America will continue to be our focus, we are going to look at the opportunities that present themselves internationally where they make sense - we will aggressively pursue them."
Over the next five years, Europe and the Middle East are the two first target regions, with opportunities seen in Africa in the longer term.
Mr Witte adds, "Obviously, as those markets fall into place we will look at other international markets that make sense for us.
"We are starting off fairly modestly but there is an opportunity for dramatic growth whatever that percentage might be."
This will be achieved through distribution agreements, offering parts and service on the ground. Mr White says the company is close to signing one of those deals. "Our approach has to be a little more specific. We want to have loyal distributions and be loyal to that region."
Discussions with potential partners are underway, meaning new distributors deals will be announced in over the next 60 to 90 days. "Like JLG, Genie and Skyjack, a large percentage of our business is with the rental sector, so we need distributors to support the rental market in whatever regions we are doing business in."
"We'll select partners where it makes good sense, in some areas the opportunity for being exclusive or somewhat exclusive presents the an opportunity or mutuial opportunity.
When we approach a market we want to make sure we approach it with all the appropriate resources."
It is worth pointing out that MEC is already present in the international marketplace with the likes of Nationwide Platforms, part of Lavendon Group, having invested in its equipment.
With the international market offering such potential pickings, many manufacturers have chosen to set up plants to take advantage of proximity to those markets or the lower production costs, particularly in China. While MEC is not planning to follow suite immediately, it will always consider its options. "I think these variables for manufacturing have always existed, so there is a constant change in evaluation that goes on. Costs vary from freight costs to labour costs and material costs and so we continue to evaluate them as they progress," says Mr White.
"There is still unknown legislation that might occur out of this current [US] administration that could further effect manufacturing and sourcing – we don't know that yet."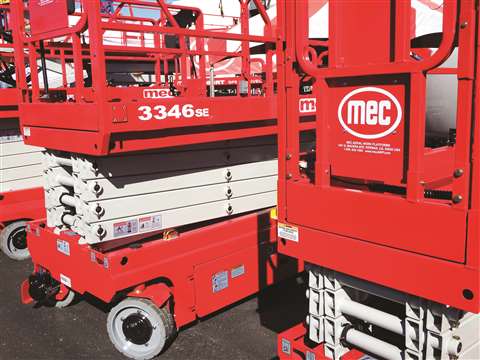 Loyal distributorship
Concerning the international distributor base, MEC will be just as forensic. Mr Witte explains, "Our intention is not to have multiple dealers in the foreign countries we want to go to, which some other manufacturers have. We are more focused on having good distributors rather than many distributors and that's going to be our approach.
"I think what we bring to the table to potential distributors, is having a unique and good value product and to be loyal to that distributor and avoid the situation of them being in direct competition for the same product."
Returning to the subject of the North American market, the new ANSI and Canadian standards are on most people's minds. These latest standards are based on International ISO standards, and are, therefore, closer to the European EN280, for example, than ever before.
Mr White comments, "We already produce products for Europe today, so it makes the transition to meet the new standards in the United States that much easier.
That's the same for all manufacturers. The learning curve for the new standard is going to be a shorter one for the manufacturers, and it's going to be steeper one for the rental companies.
"Fortunately there are members of the ANSI committees that are from rental companies, and I believe they are communicating those changes through their organisation. Having said that, as I visit some of our customers I am often asked about it."
With ever-closer standards and a desire across the industry to make production as cost-effective as possible, is the industry one step further to producing 'one-size-fits all' machines?
Mr White does not believe we are there yet. "There will still be some of the instructions and warning requirements that are still different to the European market, so to that extend there still ends up being a separate deliverable item. It gets us closer but I still don't believe there is any such thing as global product yet."