MEC's first Crossover production units ready for July
By Lindsey Anderson09 June 2011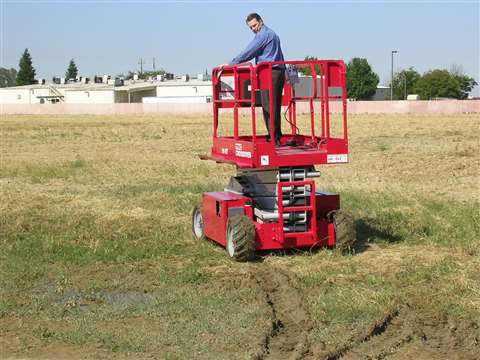 The first Crossover RT scissor lifts from MEC Aerial Work Platforms are in production and will be available from MEC dealers next month (July 2011) with additional deliveries scheduled for North America in the weeks following, the company has said.
A 26-foot version of the Crossover made its debut at ConExpo in March. The current model features a completely redesigned low profile chassis that manages to maintain 6 inches of ground clearance while providing a comfortable entry height.
The Crossover 26-foot version has a lift capacity of 1,000 pounds while the 32 foot machine rates at 750 pounds. For both units, 250 pounds of capacity are allocated to the material rack. The overall weight of the machine is 6,800 pounds and the 4 wheel drive system is powered by a 36vDC 375 amp hour battery package. The 32-foot version of the scissor has an entry height of 51 inches, while the 26-foot machine has an entry point of 45 inches.
"These industry leading entry heights were achieved by partnering the low profile chassis design with the patented MEC single stack scissor linkage," said Matthew Gauer, strategic business development with MEC. "This lower entry height will help combat worker fatigue and will absolutely help reduce the number of injuries suffered by climbing in and out of the platform as well as during the loading and unloading of material."
The side mounted material rack is another unique feature to the MEC Crossover. "This rack is designed to hold a load of sheet material for a worker to access at elevation in what has come to be one more effort of this project to reduce the risk of injury and loss on the job. The rack addresses a real world scenario wherein jobsite necessity and ingenuity results in a potentially hazardous situation when 'garage' solutions are brought to a commercial site," Gauer said.
According to MEC, the rack has been tested, rated, manufactured, approved and mounted in accordance with applicable standards. The material rack sits within the footprint of the chassis so as to maintain the 59-inch machine width.
"(MEC) is excited about getting this model into the hands of end users who will appreciate the versatility and performance of the Crossover scissor line," the company said. "MEC is also pleased with its efforts to address productivity for the end user, returns on investment for the dealers, green technology for the legislators, and the advancement of the modern scissor lift for our industry - this project was worth our best effort, and we have satisfied ourselves with the result."
The Crossover was designed and built in Kerman, CA.