MEC unveils new products at WoC
By Lindsey Anderson04 February 2009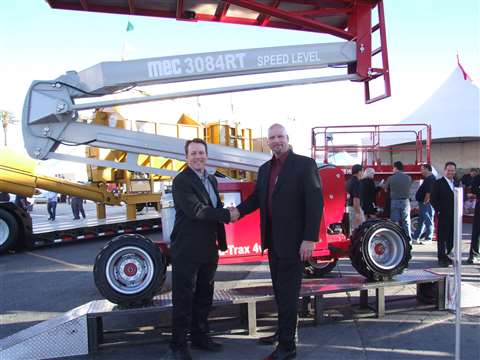 MEC unveiled its new 3084RT speed level and 2684RT speed level lifts Tuesday 3 February at World of Concrete. The lifts also come with electric options.
With up to 11 m (36 ft) of working height, the platforms can hold a capacity of 773 kg (1700 lb) and feature a Quad-Trax 4-wheel drive power package that gives the RT lifts up to 45% gradeability. "We've increased ground clearance and have a tighter turning radius," said MEC president of sales Jim Tolle.
Multiple power configurations are available for customers, including gasoline, liquid propane and diesel.
"We wanted to design a machine that had more capacitiy," Tolle said. "We identified weak areas and dissolved those."
MEC also increased surface area by 25% on the units.
The MEC speed level MEWPs are of its own design and not to be confused with the Speed Level machines which have been available from UpRight Powered Access for some years and more recently from Snorkel under the name SR2684SL and SR3084SL Rough Terrain.
For a more in-depth report on MEC's new products and World of Concrete, please see the March/April issue of American Lift & Handlers and Access International.