Mecca crane crash cause suspected
By Ian Vallely04 January 2017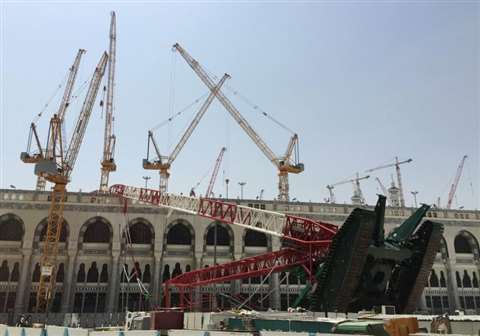 Human error was allegedly to blame for the crane that fell and killed more than 100 people in Saudi Arabia ahead of the hajj pilgrimage in the holy city of Mecca in 2015, the Saudi Gazette has reported.
The Grand Mosque crane was operated by people who were not licensed to do so, an engineer testified in a Saudi Arabian court.
The user's manual that explained how to operate the heavy machinery was never consulted by some of the people manning the crane, said the engineer, one of 14 defendants in the case.
"Some of them did not even know that such a book existed," said the engineer, who was not immediately identified.
While the proceedings have been taking place in criminal court, the defendants have said the case instead belongs in the Civil Defense Court because it was an accident.
The worst punishment a civil court could levy against the defendants would be about six months in prison and a fine versus a potential life or death sentence in criminal court.
The host of charges the defendants face include, but are not limited to, the violation of safety rules, negligence and causing the death and injuries to many people.
One hundred and eleven people were killed and 260 people injured when the 1,350 tonne capacity crane came down on 11 September 2015. The crash happened in the lead up to hajj, the annual pilgrimage of Muslims to Mecca.
The hajj is an annual five-day ritual pilgrimage to Mecca, Saudi Arabia, expected to be carried out at least once in the life of every Muslim. Millions of people attend the annual ritual.