Mediaco orders three cranes from Spierings
By Alex Dahm07 September 2021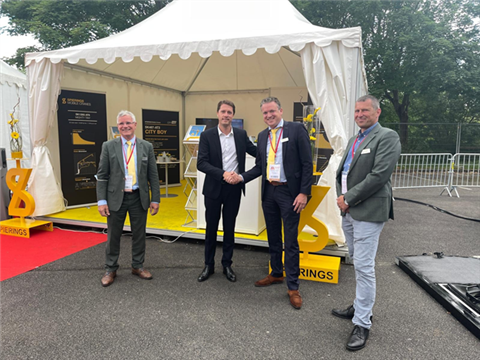 Leading French crane rental house Mediaco Group has ordered three new mobile cranes from Spierings.
The three new wheeled mobile folding tower cranes will expand the fleet in France. Alexandre Vernazza, Mediaco president, "was convinced by the eLift concept," Spierings said. Once the crane has arrived on site it allows electric operation of its functions via a mains voltage power connection. Demand is rising for emission-free operation.
Two units of the 7 tonne capacity SK597-AT4 eLift are scheduled for delivery in the first half of 2022. Maximum reach is 48 metres and the hook height can be up to 58 metres. Delivery of the third unit will be in early 2023. It will be an SK1265-AT6 eLift, also known as Mighty Tiny, named after founder Leo Spierings' late wife. Reach is 60 metres and capacity is 10 tonnes out to 13.2 metres.
Battery power
The eLift works with PowerPack battery technology and a 16 Amp grid connection to give full lifting capacity. For operation where insufficient electricity is available the crane can run from a 55 kW three cylinder diesel engine, to EU Stage V exhaust emission (without Ad-Blue). This uses less fuel than if the crane was operated from the main engine in the carrier which is reserved for road transport to and from site.
Commenting further on his new acquisition Alexandre Vernazza said, "We have a large fleet of mobile tower cranes, with more than 35 units in France. I have been in contact with Spierings Mobile Cranes for several years, and I am seduced by the innovations it presents. This new zero-emission 'eLift' lifting offer meets the needs of our customers who are increasingly attentive to CO2 reductions on their construction sites. The lifting capacities of these Spierings cranes are interesting and will complement our current lifting proposals."
For his part Koos Spierings, Spierings Mobile Cranes CEO, said, "It is an honour for Spierings to offer the best of our cranes to the Mediaco Group. We are happy our eLift models are delivered for the first time in France to the Mediaco group. These zero-emission models are a real success on the European market, in less than two years, they now represent almost all of our orders. The partnership agreement with the Mediaco Group confirms the investment in the presence of Spierings cranes on the French market."