Megalift and Duck Yang transport to Panama
Korean logistics transportation company Duck Yang, in collaboration with Megalift, recently executed a breakbulk and general container shipment for the expansion of the Costa Norte LNG (liquefied natural gas) Terminal in Panama.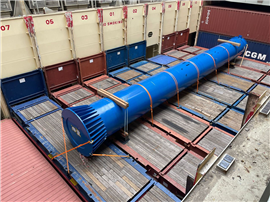 The oversized cargo was 18.4 metre high, 2.4 metres wide and 2.5 metre high.
It was shipped from Malaysia to Manzanillo in Panama. The transport involved the use of an overhead travelling crane.
With the aid of PCN (project cargo network) member Megalift, the two partners successfully transported a total of eleven pieces using flat racks and general containers were successfully transported.
"The loading operations and transshipments were expertly performed at both the Port of Busan and Port Klang," said a spokesperson for the project.