Meier & Sohn achieves successful combination
By Ian Vallely13 December 2016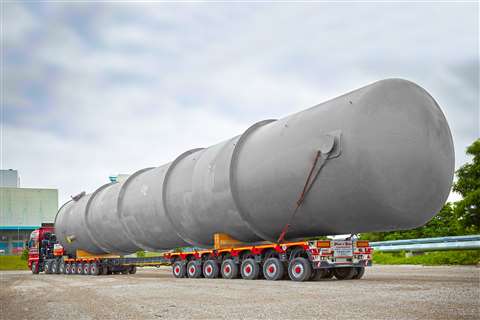 Haulage firm Spedition Meier & Sohn was the first customer from Germany to take delivery of a CombiMax combination from Faymonville. The company, established in Biederitz/Magdeburg, has already had a partnership with the specialized transport equipment manufacturer for almost 25 years.
Over the years around 80 semi-trailers have made their way to the eastern part of Germany.
A showpiece is the imposing CombiMax combination: two goosenecks, 16 axles, one add-on-beam as well as vessel bridges that can be widened to allow the simultaneous use of two CombiMax combinations.
These elements result in a modular system on which Meier & Sohn draws depending on the job at hand. Bernd Meier, general manager, said, "For us, the CombiMax is primarily used in connection with orders for the wind energy industry (steel towers or installations).
"But we also use the variable possibilities for deploying the CombiMax, either as a lowbed or a semi-combination for machinery and installations, transformers, or boilers. In addition, we've already been able to show what it can do in the construction sector."
Recently, mechanics put together a 12-axle semi-low loader with an add-on beam that can be telescoped. On the agenda this time was the transport of an industrial boiler which weighed 85 tonnes, was 30 metres long and had a diameter of 5 m.
The Faymonville CombiMax offered an effective solution, thanks to its adjustable-length, add-on-beams.