MHE-Demag opens Malaysian factory
By Ian Vallely13 December 2016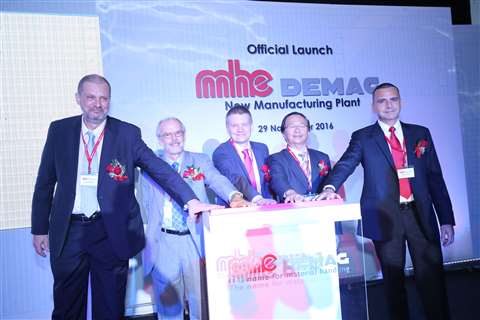 MHE-Demag, a joint venture between Terex MHPS GmbH and Jebsen & Jessen (SEA) Pte, has officially opened its largest manufacturing and warehouse facility in Bukit Raja, Malaysia.
Developed at a cost of US$10 million, the facility can operate at a capacity of 200,000 production hours a year, a 54 percent (%) increase on the previous site.
The facility is also expected to support the fabricated metal products, and machinery and equipment industries, two key areas identified as drivers for the manufacturing sector to attain its projected growth of 5.1 % per annum.
With a built-up area of close to 15,000 square metres (sq m) sitting on more than 26,000 sq m of land, the plant is the largest crane manufacturing facility in Malaysia.
Capable of building cranes of up to 50 m span, the plant will primarily serve customers from Malaysia, Australia, Cambodia, Myanmar and Singapore, who hail from various industrial sectors where lifting, moving and maintenance of materials or machineries are required.
Karl Tilkorn, regional managing director, MHE-Demag, said, "This investment cements MHE-Demag's commitment to Malaysia over the past 40 years, and is an important step forward for us. This plant is the largest and most modern of our 11 manufacturing facilities across the South-East Asian region.
"Each industrial crane needs to be individually designed and custom fabricated, hence the larger production facility along with state-of-the-art equipment will allow us to maintain our leadership position to meet the high standards required by our growing customer portfolio."
The facility will also host MHE-Demag's regional training centre.