Middle East update: Desert development
By Christian Shelton16 September 2019
Starting with transportation work, Spanish logistics provider Kaleido Logistics has shipped a number of large passenger boarding bridges from Spain to Kuwait Port. From there it then managed the overland transportation to Kuwait International Airport, which is being expanded to handle 4.5 million passengers by 2022.
Dubai, UAE-based crane and transport rental company Al Faris Equipment Rentals has just finished is the transportation and erection phase of the TKIS Iron-ore project. The project included transporting 12 oversized components of a ship loader and bucket wheel stacker/ reclaimer to Jebel Ali Port, Dubai, destined for an iron ore project on Bafin Island, Canada. Following a detailed route survey, the components were loaded onto Goldhofer trailers and moved 5 km through Dubai. A number of modifications needed to be effected for free transportation of the oversize loads. Following the transportation, the components were assembled using a Liebherr 600 tonne crawler crane and 750, 500 and 250 tonne all terrain mobile cranes.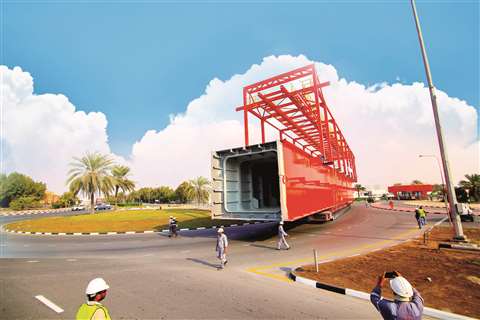 Crane order
Al Faris has also placed an order worth around US$28 million for 36 mobile cranes from manufacturer Liebherr. The new order is for mobile cranes with lifting capacities between 50 and 300 tonnes and includes 12 cranes from the new Liebherr LRT rough terrain crane series, four new LTM 1230-5-1 cranes, two LTM 1090-4.2s, and an LTC 1050-3.1 compact crane, amongst others.
According to Liebherr, Al Faris is one of its largest customers and currently has around 400 Liebherr cranes in its fleet. This latest order follows one for 25 Liebherr mobile cranes, worth around $20 million, in 2018. Liebherr has also won an order for five new Liebherr mobile cranes from Dubai, UAE-based crane contractor Gallagher International. It covers the capacity range from 50 to 300 tonnes and comprises an LTM 1050-3.1; an LTM 1070-4.2; an LTM 1100-5.2; an LTM 1160-5.2; and an LTM 1300-6.2. According to Liebherr, the new cranes will primarily be used in the oil and navy industry, for construction and infrastructure projects, as well as hoisting work in the communications and energy supply industries.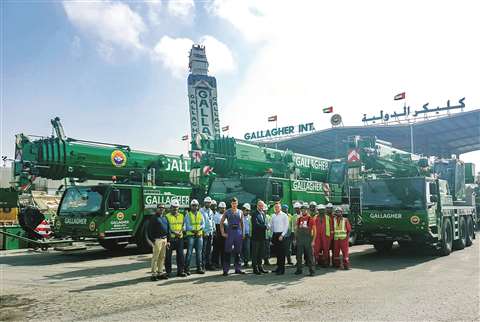 General manager Mahmoud Ibrahim commented, "We were so impressed by the quality and performance of the latest Liebherr all terrain cranes that we decided to buy more from Liebherr. In addition, their service is excellent. Liebherr also supports us with its tailored solutions to meet the demands of our customers."
Dubai, UAE-based third-party inspection company and lifting equipment supplier Dutest is now distributing the entire range of load cell manufacturer Straightpoint (SP) throughout the country. This follows the acquisition of Straightpoint by The Crosby Group, which had an existing supply agreement with Dutest in place.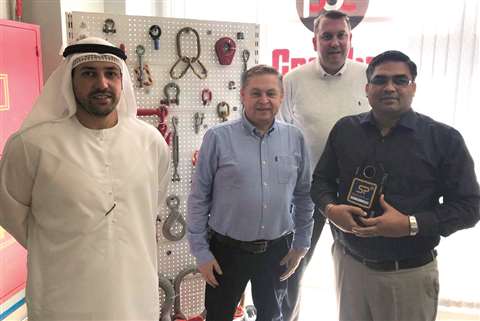 Saravanan T, Dutest's regional manager for UAE, says, "We already work closely with Crosby and receive excellent support from them. Coupled with the proactivity of SP representatives, it made business sense to add their products to our extensive stocks of lifting and rigging gear. UAE is a region that welcomes technological advancement of the industry and that trend aligns with our partnership with Crosby—and now SP. I anticipate demand for their equipment from marine, aviation, manufacturing, and heavy construction industries, in addition to oil and gas."
Marcel Tabuteau, area sales manager at Crosby, says, "We are still in the relatively early stages of the previous supply agreement with Dutest so its recent adoption of SP technology is testament to the strength of partnership we have been able to forge even over the past two years. The [SP] range is more advanced than alternatives on the market and it's evident that greater investment has been made in product development, which is important to Saravanan and his team."
Record breaker
UK-headquartered international heavy lift and transport specialist ALE has used one of its Mega Jack 300s to jack, transport, and install a 500 tonne pipe rack module in Kuwait, as part of the KIPIC Al Zour Refinery Project.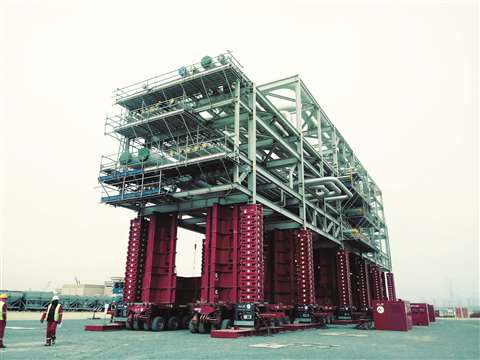 The module was 57 m long and 16 m high and, according to ALE, had a high centre of gravity. ALE says it is the longest and highest module to have been jacked up, transported, and installed in Kuwait.
According to ALE, the Mega Jack 300's stability and low starting height meant it could pick up the module directly from SPMT and then jack it up securely. The module was first raised 7.2 m in two hours and transported 2.7 km on widening trailers to its installation location. Despite limited clearance between the packing system and the Mega Jack 300, ALE says the accuracy of the control systems and the experience of its operators ensured it was safely managed. "We are delighted to be providing the full onshore heavy lifting solution for one of the largest refineries in the Middle East," says Sarkis Juvelekian, senior project manager.
In the United Arab Emirates, 20 tower cranes are being used on the Yas Island construction project. They comprise sixteen Potain MCT205s, two Potain MC175s and two Raimondi MRT294s. To enhance safety, all 20 cranes have been fitted with the DSC 60 anti-collision systems from French anti-collision and zoning specialist AMCS.
The project is being conducted in two phases, with phase one expected to finish at the end of 2019. The project includes the construction of an 18,000-seat arena, over 50 cafés and restaurants, 20 shops, a cinema, a beach club, two hotels, and Water's Edge - a large residential project.
UAE-based developer Arada commissioned Raimondi Cranes Middle East to erect a total of eight topless tower cranes at the 24 million sq. ft. Aljada jobsite, in Sharjah. Once complete, the Aljada site will be a self-contained lifestyle community comprising residential districts, a business park with 500,000 sq. m. of leasable space, and a leisure and entertainment district.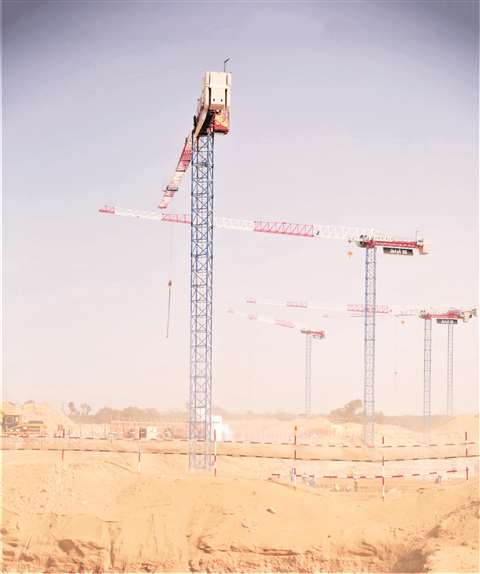 There are seven Raimondi MRT111s and one MRT223. The MRT223 flat top is being used to help build the Aljada Sales Center, designed by Zaha Hadid Architects, and has a 70 m jib. The MRT111s are positioned elsewhere on the site, lifting materials, with jib lengths ranging from 50 to 60 metres.
"Raimondi Cranes supplied teams across three groups for the different installations including supervisors," says Wael Hasan, Middle East commercial director, Raimondi Cranes. "The cranes are participating in the build of this ambitious 'city within a city' project. We are extremely proud to participate in what is called a transformational project that is historic in size and scope."
The project started in April 2018 and a number of contracts have already been awarded, including the first residential blocks and infrastructure for the initial phase. The first homes are scheduled to be handed over by the end of 2019, and the entire project is expected to be completed by 2025.