Midwest Plant buys Volvo tractor unit
By Christian Shelton13 February 2018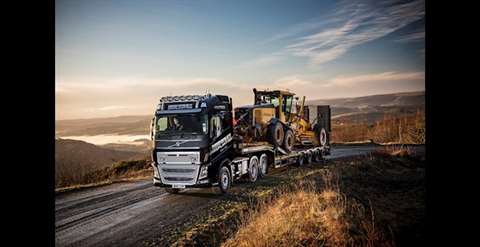 Welsh plant and machinery hire firm Midwest Plant has bought a new Volvo FH16-750 tractor unit which will primarily be used to move plant and equipment for off-road work, either building forestry tracks or working in quarry sites.
The 6x4 tractor unit is plated for 80-tonne operations and is equipped with Volvo's 12-speed I-Shift Crawler gearbox. The gearbox has multi-speed reverse gears with a ratio of 37:1.
The FH16-750 also has Volvo's Tandem Axle Lift which enables users to disengage and raise one of the drive axles. Volvo said this offers fuel savings of up to four per cent, better traction, and a tighter turning radius.
The tractor unit has a wheelbase of 3200mm, single reduction drive axles, and high ground clearance with a low offset front axle beam.
Inside the unit's Globetrotter cab is Volvo's Drive plus+ package and Living package with two beds.
The tractor unit will be used in conjunction with a Faymonville four-axle, rear-steer low loader trailer.
Midwest Plant director, Eirig Davies, said, "When Tandem Axle Lift became available for 80-tonne applications, that sold the new Volvo to us. We operate frequently on narrow forest tracks with restricted turning and reversing areas. These are often adjacent to steep mountain sides, so the ability to reduce our turning circles when running empty is a real benefit."
The FH16-750 was supplied Volvo Truck and Bus Wales and West and replaced a Volvo FH12 the company previously used.