Mills plans for brighter future
By Euan Youdale16 April 2018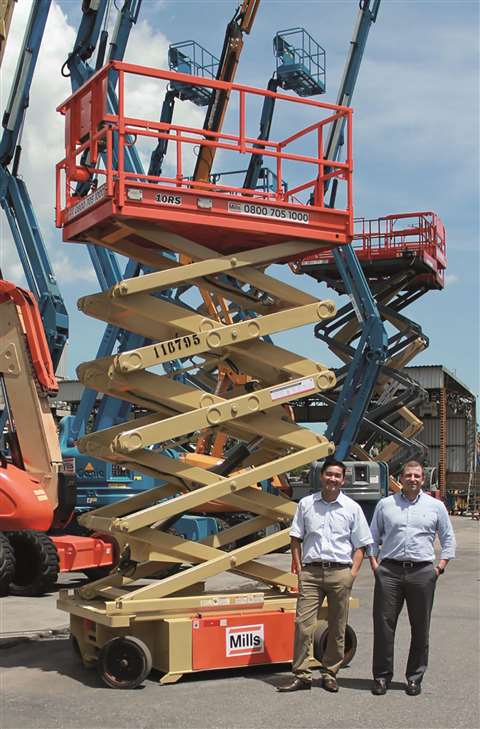 For anyone living and working in Brazil over the last four years, uncertainty concerning the years ahead could be described as an understatement. The country has been battling a major financial crises, which first hit in 2014 and has put the construction industry on indefinite hold.
This has been accompanied by massive corruption reaching to the heart of the country's construction and political system. More than 100 people in the construction sector and close to government have been charged or convicted in connection with the well-documented Petrobras investigations, and more than 50 politicians have been investigated.
The scandal has yet to settle ahead of fresh elections this year - the outcome of which can only be guessed at. One tumultuous experience after another has left many of the law-abiding companies in Brazil battling to stay afloat. One of them is Mills Estruturas e Serviços de Engenharia, the country's largest rental company, particularly of aerial platforms, which make up some 65% of its current fleet.
Its president Sérgio Kariya assumed leadership of the company in 2015, just as the turmoil was getting started. However, Kariya's emotions over the ensuing challenges are mixed, as the crises has allowed him to streamline the company and build it into what he believes is a stronger enterprise for the future.
It's a situation that many company leaders around the world, who have endured similar experiences in the their own countries, would sympathise with. The process of changing the culture and systems of a company, if carried out correctly, often see it survive the crises and strengthen its position when the economy gets back on track.
This has very much been Kariya's plan while navigating the steep declines of Brazil's construction sector. In the second quarter of the company's 2017 financial year, Mills' rental division's revenues stood at R$42.3 million (€11.53 million) – a 22.2% decrease year-on-year.
Compared with the first quarter, revenues had increased 3.7% from R$40.8 million (€11.12 million) - its first sight of growth in over two years. Group revenues, which include the Construction segment, were R$70.6 million (€19.24 million), which represents a year-on-year decrease of 33%, but a quarter-on-quarter increase of 6.8%.
The company's construction segment offers clients specialised engineering services for infrastructure, residential real estate and industrial markets, while the rental division offers hire and sales of predominantly access equipment.
Fortunes were changing in the company's most recent, third quarter results. Group revenue reached R$82.1 million, compared to R$70.6 million in the previous quarter. In the rental segment, revenue was R$48.2 million. The positive increase of 14% was due to sales of semi-new equipment, where 118 equipment was delivered totalling R$8.9 million.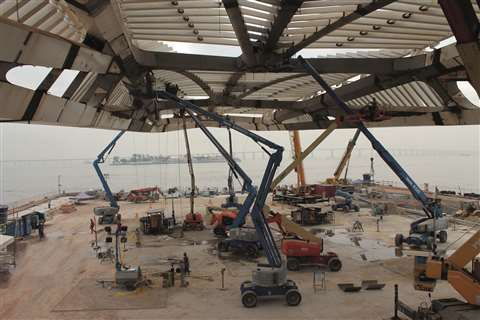 And there is likely to be a growth in the country's GDP in 2018, of around 2.5%, Kariya believes, which will help matters. Nevertheless, the situation in Brazil means nothing is that simple. "Of course, Brazil has a presidential election this year and that's going to make things a little tougher, on the political side."
Flat construction
Kariya also believes the infrastructure and construction segments in Brazil are likely to remain flat at best, while the consumer sector is on the increase. "That is why for the last four or five years we have been putting a lot of focus on the non-construction segment. We believe the consumer segment in Brazil is going to be the driver for growth."
Around 70% of the company's rental division revenues are now coming from non-construction activities, in industrial maintenance, painting, refurbishment, window cleaning, and services in general. It represents a switch from the company's former longstanding set-up. In the past, 85% of work carried out by Mills' rental segment fleet was in construction.
"We switched from 70% construction," says Kariya, "We did the right thing in adapting our mix of products, mainly AWPs, to the consumer sector, not because we wanted to but there were far less jobs for us to do in construction. As a result, we see a growth in our AWP segment in 2018."
As mentioned, 65% of Mills' rental segment fleet is made up of MEWPS, with the other 35% including formwork, shoring and special equipment for bridges and so on. "Construction, on the other hand, I am not very optimistic about," says Kariya, pointing out that infrastructure specially is in a dire situation.
One of the causes is the Petrobras corruption scandal. "Many major general contractor and construction companies in Brazil were involved in this corruption scandal. They did the engineering, procurement and construction for the infrastructure segment in Brazil.
"Now we see that the infrastructure system is not well organised in Brazil. In other words, the government now does not have enough technical expertise or the team to provide and plan for what is required."
Added to this, there is a great urgency to invest in infrastructure in the country. "We are also trying to transform the social security programme, like pension funds, here in Brazil," explains Kariya, "It consumes a lot of our GDP, as well as this, the government has not had the majority it needs to approve the reforms, which delays the situation."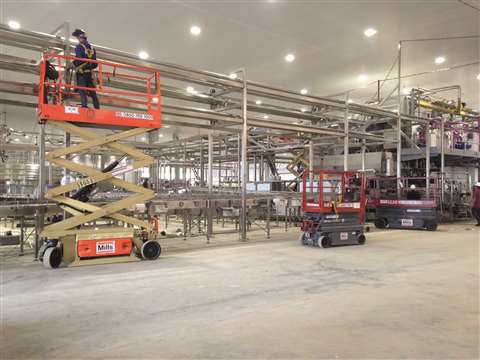 These vast social welfare costs, while important for the country, says Kariya, add to the pressure on infrastructure investment. "As a result of all this and the election, we will see a lot of jobs stopping."
It doesn't help that major works are often ended prematurely at the end of a government's term in office, rather than carrying on through to the next administration. All this comes on the back of a very difficult few years for the construction sector in general. "So, we see a very tough year for the construction sector" Kariya forecasts.
Compared to 2017, some of the project backlog for the likes of bridges and tunnels will reduce, not because they have been completed but because they have been put on hold indefinitely. The private sector is also under a great deal of pressure. All the concessions offered to companies involved in stadium and related infrastructure construction for the 2014 FIFA football World Cup and the 2016 Summer Olympics ended with those events. "Hopefully the next president will start to clear up this mess and hopefully the situation will start to get better in the second semester of 2019," comments Kariya.
Major reconstruction
The amount of restructuring required at Mills to reverse the tide and keep the company afloat has been considerable. "When I assumed the company in 2015 we had over 2,500 employees, right now it is less than half of that with 1,200 employees. We needed to deplete a lot and change a lot; we used to have a lot of equipment, mainly ultra booms for heavy construction jobs, when we had ship yards, Olympic stadiums, soccer stadiums, highways, subways and airports under construction in Brazil."
Kariya explains, "First we sold some equipment outside Brazil to the US and Europe, some to the Middle East, and we bought more electric equipment for non-construction, consumer jobs like shopping malls and industry.
Looking at Mills' current fleet size, you would be forgiven for thinking things haven't changed that much. The fleet stands at around 6,000 units, 10% less than the 6,600 units the company held four or five years ago. The difference, as previously mentioned is in the mix, with far fewer big booms, replaced by electric scissors aimed at shopping malls, etcetera.
Kariya continues, "We also closed some branches; we started looking at margins for every branch and every product and made the decision to shut down some operations."
In the rental segment, that amounted to four closed branches, with 30 now remaining. In the construction and real estate segments the loses were far greater, with 10 of its 17 branches being closed. Challenges have also come from rental rates that have been forced down as a result of the crises.
"There has been a lot of pressure on rental revenues due to lower volume and prices in the construction segment. Prices dropped almost 60% during the crises period in heavy construction, for rental it was 50% down on what we used to have. At one point the volume dropped by more than a half. Of course, the EBITDA margins were also hurt a lot during this time."
Another issue was the heavy debt assumed by Mills, to the tune of R$700 million, which Kariya took on when he took over the reins of company. "I focused a lot on reducing the debt, and, right now we have R$220 million in cash and R$300 million in debt. We have been very strong on capital discipline in the company; reducing costs, cutting expenses, shutting down operations and selling equipment.
"There was some bad debt, which has been turned to good, which means that we are way more productive, way better cultured inside the company and capital is much higher.
"We have changed the nature of the company during this crisis."
As Kariya confirms, to some extent, the crises coincided with the reorganisation of the company, rather than being the sole cause of it, as major readjustments would have been made even in a strong economy.
Nevertheless, the crisis has taken the overhaul of the company further than he would have anticipated. But, now, there are some green shoots. "Those from the construction industry are suffering but we see a light. We think things are coming better in the next couple of years," says Kariya.
Growth signs
For Mills, its rental division will see the first signs of growth in the consumer sector that it has nurtured in recent years. "We will see at least a 10% increase next year. That will be followed by infrastructure construction in 2019.
"Much depends on who is going to be our next president. There are some extremely bright candidates but there is a huge question mark.
"The economy, GDP, is going okay but if we do not invest in infrastructure we will see very short-term growth and if we don't see investment in social security, we will also see very short growth. As long as those two things happen I would say things will start to work better."
Kariya believes infrastructure spending should be at least 3.5% of GDP before things can get back on an even keel. "We used to invest around 2.7% of our GDP. If you compare it to other developing countries; China used to invest 10%, right now it's around 9%. Chile invests 6%. In 2017 Brazil invested around 1%, which is crazy. We believe next year it will be around 1.2% which is low, and 1.5% in 2019, and in 2010 it will be getting better at around 2%, but it's still too low.
"We also need to improve our productivity for everything that we produce and export," Kariya concludes.
Looking ahead
While Mills has seen serious change over recent years, things will settle down somewhat in the company during 2018. "We are not planning on any capital expenditure this year. The reasons being; firstly, although rental is growing we still have idle equipment, and secondly, the prices we get compared to the returns that we aim for are very far apart. First, I want to increase prices to balance the return on already invested capital and improve margins, and then look to increase our fleet."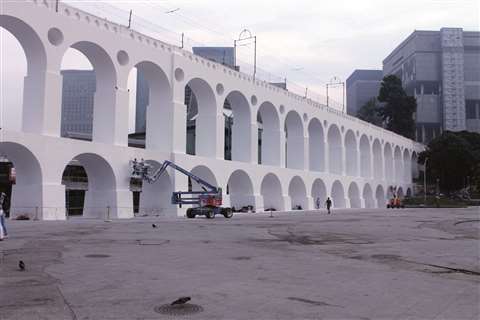 An age-old concern in the Brazilian market are the country's import rules and duties, neither of which are likely to change any time soon. "We have a regulation that forbids importing used equipment into the country. Even if international companies bring their equipment to be used in Brazil, they are breaking the rules.
"There are some exceptions for specialist equipment like a very big crane that can receive a temporary permit, then leave the country straight after the job. But for us, we cannot buy equipment from United Rentals, for example, and bring it here.
Fortunately, all this is in line with company policy. "There are some competitors, small companies, that are buying used equipment inside Brazil but I believe that our model should be to buy new equipment."
Another fact of life for rental companies in Brazil, as with other countries in the world, is the import duties for new equipment. A new piece of kit manufactured in the US can cost a buyer in Brazil up to 42% more than a customer in North America, once the whole export process has been completed.
Would it help if manufacturers had production facilities in Brazil? Kariya answers, "We have had a lot of those conversations in the past with manufacturers but I don't believe, with the volumes concerned, it really makes sense for them to construct or produce machines here."
So, the challenges continue for Mills yet the company has positioned itself in the most favourable way possible for the years ahead. It's not necessarily the same story for other companies in the sector. "I would say that our major competitors have been doing a good job. They are doing basically the same thing as us, although there are other companies that are defaulting with banks and some private equity companies are getting out of the business.
"The downturn hit everyone, some were more exposed, they did not have the capacity to change quickly. None of us thought that this huge crisis would be so long."