Mini excavators: Small machines, big demand
By Thomas Allen30 April 2019
Mini excavators are incredibly popular around the world, with some 276,000 machines worth US$7.8 billion sold last year, according to specialist consultant and market forecaster, Off-Highway Research.
They are a key element in many rental fleets and so manufacturers are often introducing new models aimed at rental companies.
Caterpillar, for example, said the rental market for mini excavators is of increasing importance to its business. The company's Global Commercial Manager for Mini Excavators and Small Tractors, Sam Mottram, estimated that about half of Cat's mini excavators go into rental. He said, "Mini excavators are one of the fastest growing sectors, and they represent the largest global industry for our PCP division. About 300,000 units were sold in 2018." PCP is the division of Cat that manufactures construction machines below 10 tons (nine tonnes).
In light of this, the company has introduced a number of new machines that will run across two size classes: four new models between one and two tons (0.9 to 1.8 tonnes) and six new models between seven and 10 tons (6.3 and nine tonnes). The rollout is part of a programme to eventually overhaul all of Cat's mini excavators.
Made in-house
In 2016, the company announced it was winding down its alliance with German-based Wacker Neuson, so the new one- to two-ton machines (301.5, 301.7 CR, 301.8 and 302 CR) will all be designed and built by Cat. As for its seven- to 10-ton excavators, many will have new incarnations, while new models will also be developed. The latest ones to be introduced are the 307.5, 308 CR, 308 CR VAB, 309 CR, 309 CR VAB and 310.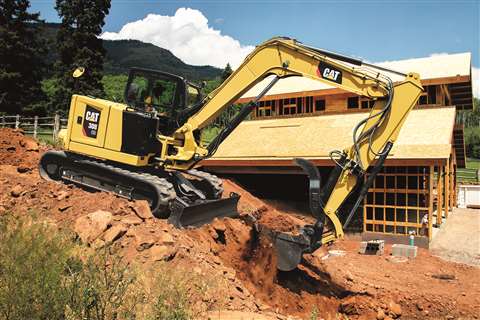 Describing Cat's philosophy for the new mini excavator range, Mottram said, "We've focused everything around three key elements: reduced total cost of ownership, improved performance, and true industry-first features.
"One of these new features is what we call 'stick steer' which is where we provide the ability to steer the machine and control the machine's travel through the left-hand joystick, rather than using the travel pedals and levers. There's a switch on that joystick; you press the button and it will basically turn that lever into the same controller you have on, for example, a skid-steer."
This is particularly useful for rented equipment, which is often used by inexperienced operators.
The new excavators also reduce total cost of ownership (TCO) by between 10 and 15% compared to previous models, according to Mottram.
"For example, we've tried to keep repair times low by providing a new tilt cab feature, which allows access to all of those major service components under the cab," he said.
An interesting trend that Mottram highlighted was the increasing use of different attachments and complex tools. He said, "A higher rental rate can be charged for machines that are compatible with more attachments and tools."
This is something that Chinese manufacturer Sany is also aware of. For this reason, the company includes an auxiliary pipe, mode switching valve and hydraulic quick-change pipe as standard on its mini excavators.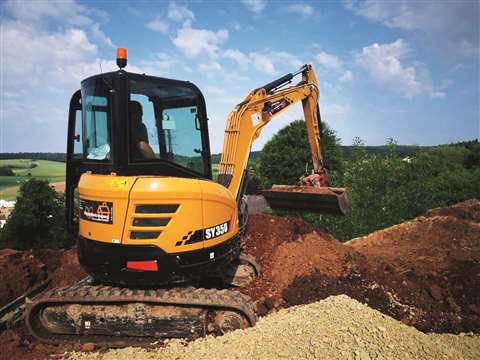 Sany echoed Cat's remarks about the popularity of mini excavators across the world, but made the point that demand is strongest in Europe, the US and China. In emerging markets, such as Thailand and Indonesia, there are low levels of demand for the rental of small excavators. But there is hope that demand will grow as labour becomes more expensive.
Speaking on the topic of emerging markets, Jaroslav Fiser, Product Line Director for mini excavators for Bobcat, said, "On a general basis, mini-excavators are products that tend to indicate the status of development in countries."
He went on to say, "In the early phases, emerging markets normally get acquainted with MEX [mini excavator] products through the use of second-hand machines imported from other countries. In later phases, they fully accept the concept and the MEX markets in these countries start to grow.
"Eastern Europe is currently experiencing this transition. Markets are growing at a very high rate (70%). We are seeing this mainly in Poland, Romania, Hungary and the Czech Republic.
"The Middle East and Africa are mostly still in the earlier phases of main infrastructure development. There will be a demand for MEX but this will come later."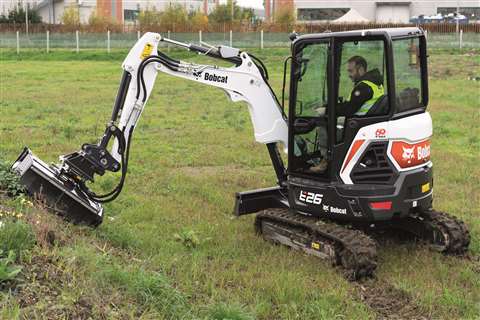 Bobcat has launched a new range of mini excavators in the two- to four-tonne size class. The R-Series comprises five models: the E26, E27z, E27, E34 and E35z.
Combining high digging forces, good stability and smooth control with low weights for easy transportation, the new machines are based on a flexible platform that can be configured according to a customer's needs.
One new feature on the E26 model was designed especially with rental companies in mind: the Cylinder-Inside-Boom concept.
After three years of working closely with rental companies, the development team for the E26 recognised that one of the most vulnerable points in a mini excavator is the boom cylinder. So it is now housed in an extended boom structure that prevents it from colliding with the sides of trucks, for instance, when being used by inexperienced operators.
Going electric
Mini excavators are prime candidates for electrification, with a number of manufacturers starting to introduce new electric solutions in this area.
One example is JCB's first fully-electric 19C-1E, which produces zero emissions and promises to be the quietest excavator the company has ever produced. As demonstrated at the Executive Hire Show earlier this year, when it was the first piece of equipment ever permitted to operate inside one of the exhibition halls, the excavator is ideal for work inside buildings and tunnels, and in emissions-sensitive inner-city environments.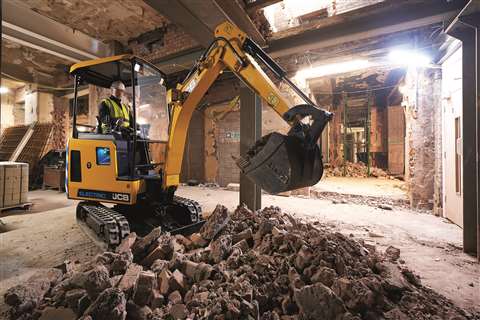 Running on three lithium-ion battery packs, the machine can hold enough charge for a full shift, with a 12-hour charging capability when using the on-board charger with 110V input, or less than two hours with the fast-charge option.
While embracing electric solutions, JCB is also driving forward its diesel range by completing its mini excavator line-up with the new 15C-1 model. At 1.6 tons (1.4 tonnes), this machine's features include an 11.7kW engine, a 100% steel body and 500-hour greasing intervals to reduce downtime.
Aimed primarily at the rental market, the 15C-1 comes with mechanical and auxiliary controls, single-speed tracking, long pitch tracks and mechanical track tensioners.
As the 14th and final model in JCB's mini excavator range, the 15C-1 will be going into full production in April 2019.
Last October, Hyundai announced it would be partnering up with engine manufacturer Cummins to create an electric mini excavator. The prototype will be displayed on Cummins' stand at Bauma.
Powered by eight Cummins BM4.4E battery modules – 4.4kWh each – the 3.5 tonne machine is designed to operate for a full shift on a single charge, with recharging taking less than three hours.
The batteries are connected in series to provide a total energy of 35kWh. Mounted near the base of the excavator, the Cummins-designed and built battery pack uses lithium-ion technology "to achieve a higher energy density and proprietary control technology to maintain the battery state-of-charge for a longer zero emission range."
In addition, the modular design allows for scalability to other applications and duty cycles, says Cummins.
Alexander Greschner, Chief Sales Officer of Wacker Neuson, said, "Electric drives are becoming increasingly important. For rental companies in particular, these solutions are an interesting supplement to existing fleets as many of their customers rent products for specific projects such as renovation work inside buildings or tunnel construction."
He added, "Electric drives are also low maintenance. This is a huge benefit as it reduces maintenance time and costs, and maximises machine availability."
Ease of maintenance
When it comes to the maintenance of Wacker Neuson's fully electric EZ17e mini excavator, rental companies will be pleased to know that technicians do not require extra training to service the machine.
It also handles like a diesel-powered model and has zero tail swing, reducing the risk of damage when working in confined spaces.
Using lithium-ion batteries integrated into the existing engine compartment, the EZ17e can operate for a full working day and then be charged over night via a mains power supply, or in just four hours using a high-voltage current. With its smart charging management system, the excavator can even be charged while in operation.
Bobcat is due to launch a fully-electric mini excavator of its own at Bauma: the E10e. The prototype of this model was first displayed at the last Bauma, in 2016.
It is a zero tail swing excavator in the one tonne class that has a width of just 72cm, enabling it to pass through standard doors and in and out of lifts. This makes it particularly well-suited to jobs inside buildings.
By connecting the E10e to an optional external Bobcat super-charger while operators are on normal work breaks, the excavator can operate for a full eight-hour shift.
A spokesperson from Yanmar Construction Equipment Europe told IRN that rental companies are still making up their minds on the merits or otherwise of electric-powered machines. So, while there is demand for electric machines, the company does not want to rush into producing what it called a "fashion" model. In the meantime, a number of Yanmar's dealers are converting machines to operate on a mains electric supply, which is more straightforward from a technical point of view.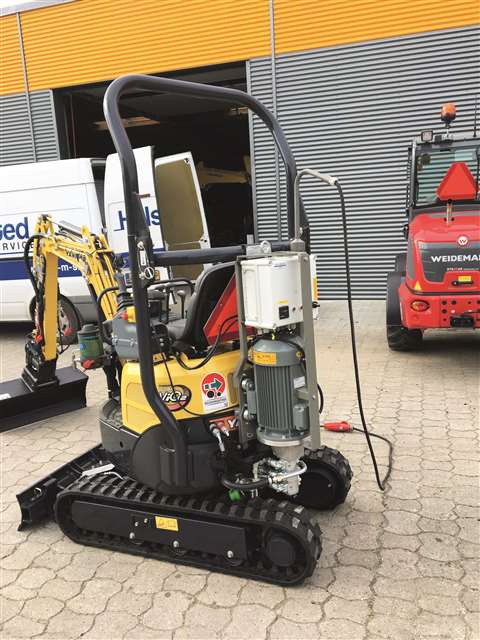 One example is Stemas, Yanmar's Danish dealer. The company has taken a ViO12 mini excavator and converted it into a ViO12 Hybrid by mounting onto it a 3.5kW electric motor with three pumps. The size of the pumps is equivalent to the standard machine, so the working speed of the machine's functions remains unaffected.
Two new products by Italian drive specialist Bonfiglioli offer a fully electric alternative to the company's conventional axial piston hydraulic unit, meaning that customers now have access to a complete drive solution for two- to three-ton (1.8 to 2.7 tonne) mini-excavators.
TCO is reduced by the greater efficiency and extended maintenance intervals offered by the new 701TE and 701CE powertrains. Their electric motors have been designed to match the market's demands for greater energy efficiency, more compact dimensions and higher power density.
Emissions regulations
Another trend in the market has been prompted by the introduction of Stage V emissions regulations in Europe. As a result, various manufacturers have been introducing new and updated models that comply with Stage V. Among them is Kobelco Construction Machinery Europe, which has re-launched a number of its smallest excavators.
The company's SK08-2E, SK10SR-2E, SK18-1E, SK22-1E, SK25SR-6E, SK26-1E, SK28SR-6E, SK30SR-6E and SK35SR-6E are now Stage V-compliant, while the SK17SR-3 is expected to be upgraded in April 2019.
They all feature Kobelco's iNDr technology for noise and dust reduction, and their hydraulic circuitry is designed to deliver high power in a fuel-efficient way.
Doosan has also launched new Stage V-compliant versions of its DX62R-3 and DX63-3 six-tonne and DX85R-3 eight-tonne mini-excavators.
The upgraded DX85R-3 is powered by Yanmar's 4TNV98C Common Rail direct injection diesel engine, which meets Stage V regulations through the use of exhaust gas recirculation (EGR) and diesel particulate filter (DPF) aftertreatment technologies.
The same engine is used to power the updated DX62R-3 RTS and DX63-3 models, providing a 22% increase in engine power over the previous generation models.
The new 3.7 tonne KX037-4 mini excavator from Kubota is powered by a Stage V-ready 17.8kW Kubota engine, and it replaces the company's KX101-3α4 model. It was said to offer "a wealth of new features to improve everyday efficiency, ease of use and compliance with industry regulations."
Improvements include a larger cab with more legroom and a new door that is 40% wider than on the previous model, making for a more comfortable operator environment.
As standard, there are four top frame tie-down points for safe transportation and a hydraulic lockout on the left-hand console. Also, a fuel tank sensor alerts operators to possible overfilling, preventing fuel waste and harm to the environment.
Upgrading
Volvo CE is also offering an upgraded excavator, the ECR88D, which has a short swing radius and is powered by a four-cylinder 43kW engine that is Tier 4 Final/ Stage V compliant.
The machine's DPF cleaning interval has been increased to 6,000 hours, reducing the cost of ownership. This is helped by the auto-idling system, which lowers the engine speed when the controls are inactive for a specified time pre-set by the operator – between three and 20 seconds.
The ECR88D comes with an automatic engine shut-down mode that can be set to trigger after a period of inactivity between two and 60 minutes. Also new is the 'eco mode', which optimises demands on the hydraulic and engine systems.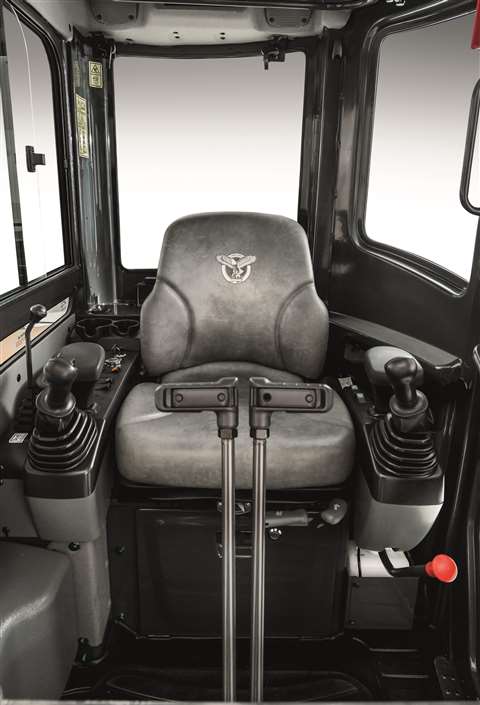 Case Construction has stressed the importance of the rental market, especially with regard to its mini excavators.
The company has seen demand increase for versatile machines that can be used in a range of different applications and that also offer greater operator comfort. Case's mini excavator range focuses on these elements, offering 10% higher maximum reach compared to previous models, faster cycle times and a range of integrated attachments. Also, the larger CX26C, CX30C and CX36C models come with a spacious cab that has better sound insulation and offers greater visibility.
One option that is particularly appealing to rental fleet managers is Case's telematics system, SiteWatch. All of the company's mini excavators are pre-wired so that the solution can be installed easily.
It gives fleet managers the ability to measure and optimise the availability of a mixed fleet and monitor critical parameters via the SiteWatch portal.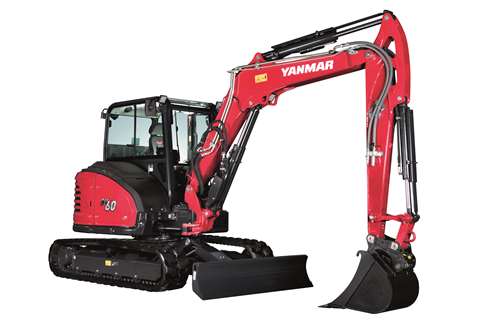 Celebrating with a makeover
Yanmar Construction Equipment Europe is celebrating 50 years of its SV60 compact excavator with a special-edition livery.
A limited run of ten units has been made available through the company's global dealer network.
The models will feature a distinctive red colour scheme and combine "sector-leading technology", according to Yanmar, with a business-class feel. The company said the five- to six-tonne machine boasts a 3.56mm working envelope but promises the performance of a midi excavator.
Sales and marketing director Andreas Hactergal said, "We wanted to celebrate the 50th anniversary of our very first mini excavator with a series of festivities. Yanmar is renowned worldwide for its excavator range, so launching a limited-run edition of our modern-day equivalent seemed a fitting gesture."