Mini excavators: Small machines, big impact
By Joe Sargent20 February 2020
The compact construction equipment industry contains products which are small, robust, versatile in application, and are cost effective – all of which helps to explain their increased adoption.
This type of machinery has become more popular across almost all regions and all global manufacturers; for example, demand in Asia is rising quickly, especially compared to where the compact machinery market was in this region just a decade ago.
The global compact construction equipment market – consisting of compact excavators, skid steer loaders, compact track loaders and compact wheeled loaders – was valued at more than US$10 billion in 2017 and is likely to reach more than US$15 billion by the end of 2025. According to analysts, sales of mini excavators alone represented almost 23% of the 1.1 million units of construction equipment sold worldwide in 2018.
Product lifecycle
Another prominent factor for the machines' popularity is the rise in electromobility, which is redefining the market in major ways. Manufacturers have invested heavily in developing electric solutions in this sector, not least Volvo Construction Equipment (Volvo CE). The company has committed to only producing new compact electric machines rather than diesel.
From the middle of 2020 in Europe, Volvo CE will begin to launch its range of electric compact excavators (EC15 to EC27) and wheeled loaders (L20 to L28), stopping new diesel engine-based development of these models.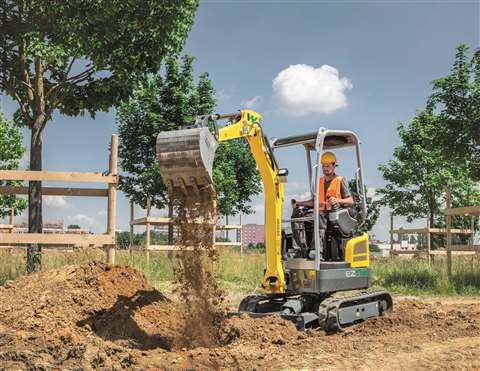 Helmut Broy, compact wheeled loader business platform leader at Volvo CE, said, "It's easy to understand why this segment has been so attracted to electromobility. Cities want to – and need to – drive down their emissions and, as regulations become more prevalent, our customer base is increasingly looking for electric machines to meet these requirements."
Even traditional customers are showing signs of being more open to this new technology. Elodie Guyot, electric compact excavator project manager at Volvo CE, who oversaw the launch of the ECR25 Electric, commented, "Since we announced the launch of our new machines we have been getting increasingly diverse requests from the market.
"Landscaping and utility works are typical applications for compact excavators, but we are now also receiving requests for other job sites such as indoor demolition or tunnelling maintenance."
Currently, Volvo CE has fleets of compact excavators working on the €100 billion (US$111.2 billion) Grand Paris project in France, but it's not just the big jobs that these compact machines are suited to.
Swedish micro tunnelling and excavation specialist, Röde Anlägg AB, used a Volvo EW60E compact excavator for its small-scale urbanisation projects, particularly broadband installations. One of the key advantages of this compact machine was said to be the wide range of attachments that can be used, including: six buckets, a hydraulic breaker, a hydraulic thumb, a tilt rotator, all with the quick coupler option.
A stable machine
Of course, there are other considerations to factor into the purchasing of mini excavators than just their power source. In recent times it has become far more common for the operator to also be consulted on the type of machine he or she would like to operate.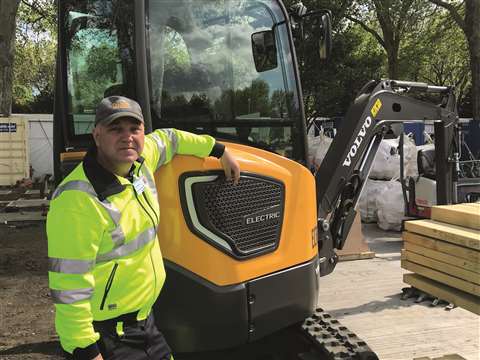 The TB260 Tier 4 Final hydraulic excavator from Takeuchi appears to cover both desirable attributes to the owner and to the operator. The machine is a conventional tail swing model, which has been tailored to deliver a stable excavating platform, while increasing cabin size over previous generations.
Standard features inside the cab include a 'deluxe' high-back suspension seat, low-effort pilot controls, a colour monitor and a Bluetooth radio.
For the owner, peace of mind is provided knowing that a selection of operating modes gives the excavator the capability to work at optimum fuel efficiency, while matching power requirements demanded on the job.
Maintenance crews will be pleased with the newly improved service access afforded by a reconfiguration under the hood; daily service points and filters, the control valve, hydraulic lines, hydraulic tank, pattern change valve, battery and side-by-side cooling module are all now said to be easier to access, reducing maintenance times.
Heavy-duty construction of the swing boom allows the unit to dig offset on both the left and right sides of the machine without repositioning. This is ideal for confined spaces including walls and structures.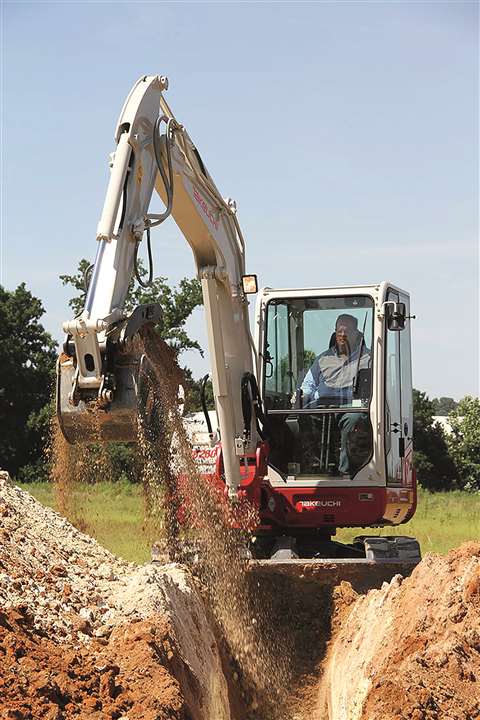 Fitted as standard, a steel-reinforced heavy-duty blade has been redesigned for better material retention and keeping material rolling to the front and away from the machine.
The TB260's triple-flange track rollers maintain at least two points of contact at all times, making it less susceptible to detracking. Three track options are available with this unit, including rubber, segmented rubber and steel.
Zeroing in on emissions
One machine that combines the future of working in urban areas with the demands of being beneficial to both owner and operator comes from German manufacturer Wacker Neuson.
The mini excavator EZ17e is a fully electric machine from Wacker Neuson which can run entirely on its battery but can also be operated while connected to the mains and even charged while in operation.
The mini excavator is also a zero-tail model and therefore offers zero overhang. Operators are also less likely to damage the machine when working close to walls or in confined spaces because the tail of the electric excavator never extends beyond the undercarriage. This would make the excavator ideal for tunnel construction, demolition and redevelopment work in confined spaces, and for restoration projects inside buildings.
All hydraulic functions are said to be as powerful as those of the conventional model and the battery is integrated in the existing engine compartment. The EZ17e weighs almost exactly the same as the diesel version and can therefore be transported on a trailer.
The battery life allows the excavator to be operated for a full working day and can be charged overnight via a domestic socket (110-230 V), or in four hours using a high-voltage current. Service teams do not need any extra training for servicing the machine, making the electric excavator particularly attractive to rental parks. The excavator will be available from spring 2020.
The conventional compact
Sticking to conventional drive methods, Caterpillar has launched a new 6-tonne class 306 CR Next Generation Mini Hydraulic Excavator. This particular machine marks Caterpillar's entry in the 6-tonne class offering.
With its long stick option, the 306 CR delivers a maximum dig depth of 4,114mm (162in) and 7,175kg maximum operating weight when equipped with the sealed and pressurised cab. A canopy alternative to the pressurised cab will be available for customers in 2020.
Constructed with a swing boom, the excavator's compact radius design provides a low 1,475mm (58in) tail swing with counterweight for working close to obstructions.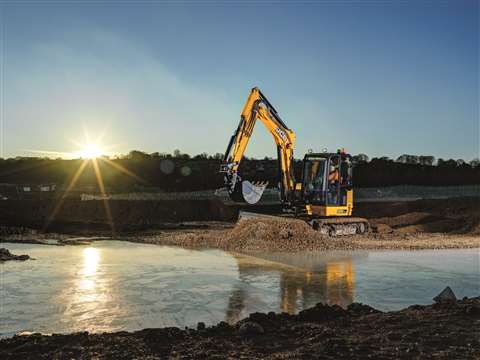 Cat says that the new 306 CR delivers class-leading lift performance of up to 3,555kg at a 3m radius. With improved uphill swing torque and increased cycle times the company promises that the machine offers greater productivity and efficiency.
The Cat C2.4 turbo diesel engine rated at 41.7 kW (55.9 net hp) powers the new 306 CR mini excavator and meets EU Stage V emission standards. Automatic engine idle and shutdown features help to save on fuel consumption.
In the sealed and pressurised cabin, which is heated and air-conditioned, operating noise levels have been reduced to 72 dB(A) and, as standard, the operator can switch from conventional lever/foot-pedal steering controls to the Cat Stick Steer system.
A check-up on check-in
The importance of machine health and uptime should never be understated, especially in a competitive industry where margins are often tight.
With the new EU Stage V emissions regulations coming into force, JCB has taken the opportunity to not just meet these requirements in its 8-10 tonne excavator models, but to also revaluate the lasting health of each machine to improve its lifetime.
JCB's dash-2 machines – J85Z-2, 86C-2, 90Z-2 and 100C-2 – continue to use JCB by Kohler diesel engines, that now feature a combined DOC (Diesel Oxidation Catalyst) and DPF (Diesel Particulate Filter) exhaust system.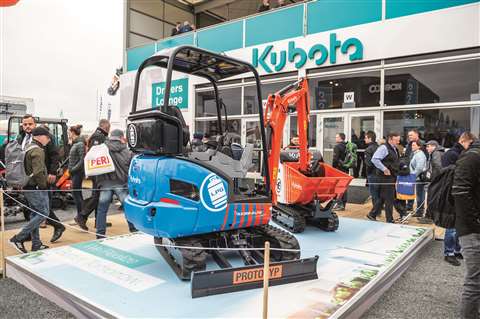 Power outputs will remain the same as previous models and engine auto-stop and a one-touch idle feature have been incorporated as standard, to reduce fuel consumption and cut emissions.
Part of JCB's improved uptime plan is a revised electrical architecture with a 7" operator display, membrane switch panel and rotary controls. During the first ignition cycle for the day, a machine health check screen is displayed to highlight the machine condition prior to usage.
There are enhanced safety features, including an advanced lift overload system, that gives a visual indication of the lifting limits of the machine. This incorporates a status bar with a coloured warning system, accompanied by an audible alarm.
Electro proportional controlled joysticks have been introduced, incorporating swing control on a thumb switch. This increases operator control, while maximising floor space.
Finally, some thought has also gone into improving the electro-hydraulic dozer lever. The lever is now said to provide more accurate control and response to the operator when back filling and dozing.
A must-have for hire
Though they may be small, having a mini excavator on your team can mean some serious productivity gains. Cheaper to hire than their larger counterparts and easier to transport, rental companies can push these machines out to many clients who require such a workhorse.
UK-based Hunter Plant Hire recently purchased some Bobcat mini excavators, including the first Bobcat E57W wheeled minis to be available from the UK rental equipment industry.
Hunter ordered 12 Bobcat machines; two E57W 6 tonne wheeled mini excavators, along with Bobcat E17 1.7 tonne, E27z 2.8 tonne, E45 4.8 tonne and E85 8.6 tonne units.
Liam O'Malley, a director at Hunter Plant Hire, said, "Following a very busy period over the last two years, serving the heavy equipment market, the purchase of the new Bobcat mini excavators represents a renewed focus on serving the compact rental market."
The E57W mini excavators at Hunter Plant Hire have the optional double tyre configuration and are powered by a Bobcat D24 diesel engine delivering 42.5kW (57hp).
The E57Ws have double-acting breaker lines and, like the E85 mini excavators, have rotation piping for a second auxiliary hydraulic line, air conditioning, auto idle, a refuelling pump and a key code immobilisation system.
O'Malley said, "Another important benefit [for the E57Ws] is mobility, with the possibility of rapid transport on the road between different workplaces. With no need for a trailer or a vehicle to tow it, the E57W can negotiate narrow streets and other city centre spaces, where a truck and trailor cannot access."
Staying in the UK, Bell Plant Ltd, part of K W Bell Group, has taken delivery of 12 new 6 tonne Doosan mini excavators, supplied by Kellands (Plant Sales) Ltd.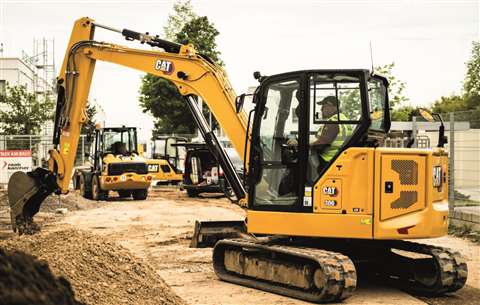 Part of the current fleet renewal programme, the new Doosan order comprises seven DX63-3 conventional tail swing and five DX62R-3 reduced tail swing mini excavators, in a deal worth around £0.5 million (US$0.65 million).
The excavators are the latest Stage V versions of both machines, powered by the same Yanmar 4TNV98C diesel engine, providing 44.3 kW (59.4 HP) of engine power at 2100rpm, providing a 22% increase over the previous generation models.
Peter Bell, a director at K W Bell Group, said, "The smooth operation offered by the new mini excavators has been very well received by our drivers.
"The Doosan machines offer us consistency, reliability and versatility, combining their compact design for negotiating tight spaces with the ability to cover all the applications such as digging foundations, service trenches and loading lorries that you would expect to complete with much bigger 13-14 tonne excavators."
The future?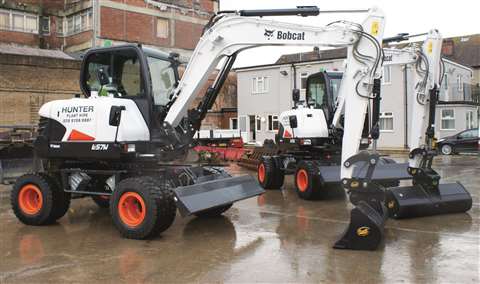 Clearly there are a lot of options available to purchasers in the current market. Looking to the future though: what if electricity – as has been proclaimed by many of the industry's construction manufacturers as one of the ways forward – does not become the adopted normality?
Japanese manufacturer Kubota has developed an alternative – a prototype machine that will run on liquid petroleum gas – the KX019-4 LPG.
Kubota claims that the machine's performance characteristics are the same as the diesel-powered KX019. The excavator's undercarriage is also variable, which allows operators to enter into areas with less than a metre of access.
One thing is for certain, the mini excavator may be small but to the construction industry and those working in it, the machine is a tool which is only increasing in importance.
Hitachi heightens safeguards
Hitachi adopts new CESAR ECV securities as standard
Officially launched by the UK's Construction Equipment Association (CEA) in June 2019, a new CESAR Emissions Compliance Verification (ECV) has been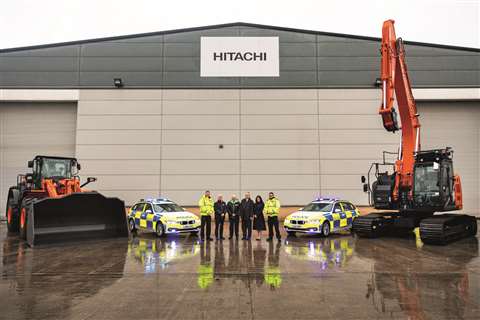 developed as a 'bolt-on' product that complements existing CESAR security systems to allow quick and easy verification of a machine's emissions category.
Hitachi Construction Machinery (UK) has confirmed that from January 2020, every mini, medium and large excavator, wheeled loader and wheeled excavator will be fitted with a CESAR Security System powered by Datatag technologies as standard.
Using evident colour coded labels with a unique alpha/numeric code, this feature is linked securely to a machine's unique CESAR identity and ensures complete integrity of the system.
David Roberts, CEO of Hitachi Construction Machinery (UK) said, "Helping our customers to protect and optimise their Hitachi machines is an increasingly important element of our value proposition, and in conjunction with our online Global e-Service telematics system which has GPS location capability, the addition of CESAR gives our customers even more peace of mind.
"Our customers also require a quick and easy way to identify which stage of the EU emission regulations their machines comply with, as more sites control and monitor their carbon footprint. The addition of the Emissions Compliance Verification or ECV to the CESAR program gives our machines a visible and traceable identity in regard to which emission stage they comply with."