Mining equipment market to hit US$95 billion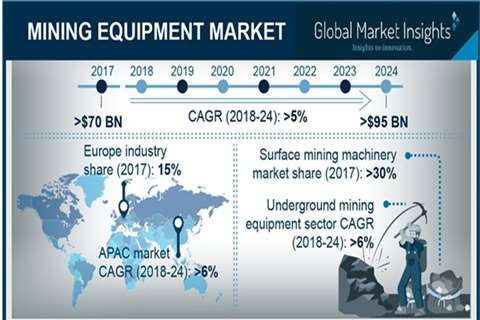 The value of the mining equipment market will exceed US$95 billion by 2024, according to a new report by Global Market Insights.
The mining equipment market is expected to grow over the coming years due to the rise in demand for remote monitoring and control technologies in mineral extraction processes, according to the report.
These processes involve several difficult tasks that cannot be manually operated. The workers are exposed to the harsh underground temperatures and chemical radiations that adversely affect their health conditions. The machines allow the operators to control and monitor the process without entering these extraction sites.
Manufacturers are targeting the demand of the operators by integrating several smart technologies such as advanced monitoring and control, data analytics, automated drilling, IoT sensing, GPS locating, and 3D imaging technology.
The underground mining equipment market is expected to grow at a CAGR (compound annual growth rate) of over 6% over the forecast timeline owing to the rise in demand for the metals and minerals in several industrial sectors.
The demand and consumption of metals in the manufacturing sector for the development of tools, machines and other accessories, which are utilised in the processing of industrial products, are growing at a rapid pace. This demand is met by developing machines with advanced technologies to perform underground extraction operations, thereby driving the mining machinery market.
With a rise in the global population, the consumption of coal is increasing rapidly, providing an opportunity to cater to the widespread demand in the mining machinery market. Countries that are primarily engaged in coal production include Ukraine, Colombia, South Africa, Indonesia, and Australia.
The report said that the ease in availability and affordable prices of these machines are encouraging companies to replace their conventional models with advanced machines, thereby providing an impetus to the mining equipment market growth.
To read the report, click here.