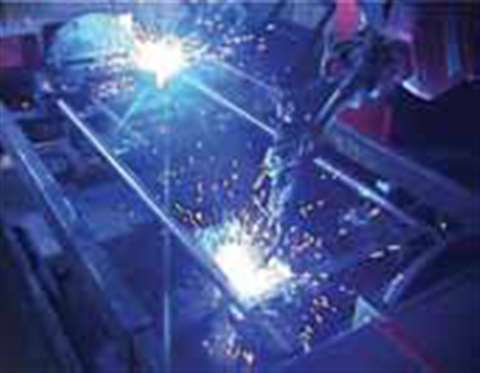 It about uncertainty – you can't see what lies beneath the painted surface of scaffolding components. As Swedish manufacturer Haki's UK subsidiary sums up the issue: "All systems are not of the same quality and performance, even though they appear superficially to be similar…creating the possibility of accidental mixing and use."
Differences critical to performance lie beneath the surface. Weld quality can be difficult to visually determine, and composition of materials and tube wall thickness are beyond most users' assessment. Wall thickness is particularly important, given the attraction to reduce product weight and the rising cost of steel.
Manufacturers point out that any one substandard tube, fitting, bolt, or weld risks the integrity of a scaffolding structure, and "People see an opportunity to compete without delivering services," says Haki UK managing director Paul Brunt.
There is clear evidence that manufacturers' components, at least some, are different. Haki offers the results of independent Swedish Research Institute's comparison of its genuine and pirate copies of 3 m leg standards, ledger beams, and node connections.
Standards, copied from Haki's design, were as much as 2.5 kg (14%) lighter, and ledger beams were up to 1.5 kg (9%) lighter (Indications of smaller tube thickness, a characteristic that greatly affects rigidity and strength.) The institute analysed four pirate copies of node connections and found them up to 47% weaker.
"Low–cost, imported components are increasingly common in the US, and virtually all suppliers have relationships with foreign manufacturers. Given the influx of imports, a wide range of components are coming in," says John Miller, owner of scaffolding services provider Millstone Companies In Maryland, US, and also current president of the Scaffold Industry Association (SIA).
They are finding their way into use. Mr Miller told SI; "Eighty percent of the scaffolding houses around the US are mixing", even though "most manufacturers say, don't mix." However, "Not a lot of scaffolding is falling down as result. Scaffolding is not failing because of mixed components."
"Mixing can be a problem, a serious problem," says Marty Coughlin, president of Waco Scaffolding in Cleveland, OH, in the US, which manufactures and sells, rents, and erects scaffolding.
"Some off–shore suppliers are promoting their products' compatibility with domestic products, and some of these guys don't even know that their products don't fit the same size tubes."
The biggest issues arise when a mixed component doesn't have the same capability. "A contractor or engineer may grab Waco load charts, but if he doesn't know that some [copied Waco components] are in the system, it becomes a problem," says Mr Coughlin.
"If there's a failure, everybody comes to the party, looking for someone to blame. That's when the phones [of the foreign manufacturer] don't get answered."
The consequences of mixing, says Mr Coughlin, depends on what's being mixed. "A lot of components, those that don't bear a lot of load, can be mixed without much risk."
Threats and markets
It is not just imported copies that are seen to be a threat. Layher's Swedish subsidiary took competitor Mon. Zon to court in a claim that its advertising materials caused readers to believe that a Swedish type certificate existed for scaffolding that used a mixture of the two companies' parts. Layher lost, and the court explained that "specialist" users would not be misled.
John Miller's explanation for manufacturers' objections to mixing is blunt: "It's about protecting the brand, protecting market share."
Peri, of Germany, is protecting its brand and share in a different way. Scaffolding product manager Jurgen Kurth, told SI, "We have our own scaffolding design. Our components are not compatible with any others on the market."
He says that Peri's components are not copied, "other than perhaps a few in India or China." This is because, "You need special machines to manufacture some of our products our products. For example, our steel decks are primarily welded steel, and 'garage' type manufacturers don't have the machines necessary to make the quality of our components."
He adds; "You can't stop copying. Best way to prevent it is to have a good relationship with clients, to deliver the consulting, design, training, and maintenance services that we sell with our scaffolding. We always try to find the best solution for the client. If a customer doesn't want that from us, he can go to China and buy cheaper components. The best protection against copying is to deliver services."
Aluma Systems in Canada, part of Brand Services, takes a different approach. Peter Hermann, product manager, told SI; "Interestingly, most of our components are developed with the knowledge that they might be used with others…We haven't had any incidents. We've had no issue. Our people know that if components have to be forced, they shouldn't be used. If they go together, it should be all right."
Waco's Marty Coughlin puts the issue into an economic perspective. Although imports can cost up to 50% less, and often less than the cost of the steel needed to manufacture domestically, he suggests that over the 20–year life of a frame, and compared to the costs of consequence of a failure, the savings are small. "It's not worth it," he says.
That might be the long–term economic view; what guidelines are there now to help users? Government agencies are involved, although Haki suggests the "supply of 'copies' of original products tends to increase out of the control of authorities."
The UK's Health and Safety Executive "doesn't have guidelines on mixing components from different suppliers," said press officer Melissa Phoopar. However, its "advice" is that "…different components should not be mixed."
On the other side of the Atlantic, the Occupational Safety and Health Administration (OSHA) in the US doesn't prohibit mixing of components, either.
Its guideline is that they have to "fit properly", according to Mr Miller.
The solution in the UK is guidance from the industry. Haki is part of an effort with the National Access and Scaffolding Confederation (NASC) to publish standards for design, manufacturing, testing, and installation of scaffolding. "Our objective is to get people to ask the right questions," says Mr Brunt.
Guidance
The US industry is pushing guidelines, too. Mr Miller said that the industry has taken some steps to police itself and that the Scaffolding Industry Association is drafting guidelines. They are due in July 2008, and would set standards for all scaffolding components, regardless of source.
w
Meanwhile, Mr Miller's solution for his own company, Millstone, is don't intermix. "It's a business decision. If there is an accident with my scaffolding, I know where to go," says Mr Miller. "Ultimately, the person who buys and puts it into the stream of commerce is responsible. He is the one taking the risk, the one who is gambling."
There are several solutions to the problem. As some companies have decided, buy from one supplier; don't intermix. Others mix only those components that don't bear loads. Others still use components from big, well–known manufacturers.
But it comes down to the same thing for users: know what you're using, know what lies beneath the surface of that component.