MK 140 for Ainscough
By Christian Shelton16 January 2020
UK crane rental firm Ainscough Crane Hire has extended its fleet with the additional of a Liebherr MK 140 mobile tower crane. The five-axle model has a maximum lifting capacity of eight tonnes and a maximum radius of 65 metres, at which it can lift 1.9 tonnes.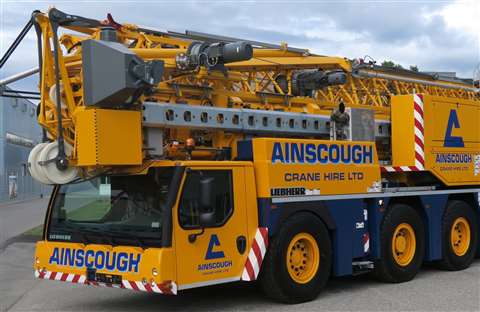 Ainscough's new Liebherr MK 140 mobile folding construction crane
Along with the crane, Liebherr provided training for 40 Ainscough members of staff at its Biggleswade, UK site. They were shown information about the model's technical design which Liebherr said would help them to look for new applications on projects throughout the UK. The training also covered the crane's on-site hybrid capability which, Liebherr explained, results in a lower carbon footprint, less noise pollution, and greater efficiency in terms of fuel consumption.
Andrew Spink, operations director – heavy cranes at Ainscough Crane Hire, said, "Using the important training they have received at Liebherr Biggleswade, the Ainscough team can now apply their knowledge on the new addition to further support our customers across the country."