MLE introduces US-built spider lift
By Lindsey Anderson01 July 2008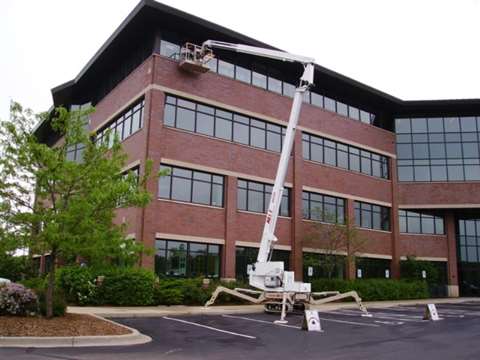 Wisconsin-based Man Lift Engineering (MLE), LLC has designed and built a new spider lift in the US for the atrium and tree-trimming markets. MLE, often known for producing special versions of standard lifts, unveiled the original A65TD spider lift that features a 71-foot working height, a 33-foot side reach, and the ability to fit through a single 35-inch-wide door.
"No base machine has been used to create this [spider lift]," said Greg Irby, MLE's sales coordinator. "This is ours, built from the ground up."
The lift has a 450-pound and 550-pound dual rated platform capacity and non-marketing track drive with 8 psi contact pressure, making it safe for use on marble, carpet, grass and other delicate surfaces.
"The track is kind of like a tank," Irby said. It is made up of hard rubber but keeps marks off flooring.
Irby said the spider lift also has newer technology compared to some of the other spiders in the market, such as using green biodegradable hydraulic fluid that "wouldn't kill a thing if it went back into the environment" and optional generators for continuous operation and 110V back to the platform when outdoors. The non-emission battery power for indoor use keeps the machine quiet, as well. The spider lift can also function as a crane, Irby said, if the user needs it to be converted.
Introductory pricing starts at $119,900, which is cheaper than foreign imports because of the current exchange rate, tariffs and the overall cost of importing from overseas, Irby said. Primary users include window cleaners, maintenance personnel for buildings with unique architecture, such as hospitals and hotels. Irby concluded that customers enjoy the A65TD's lightweight design, maneuverability and ease of operations.