Mobile asphalt
By Chris Sleight11 June 2008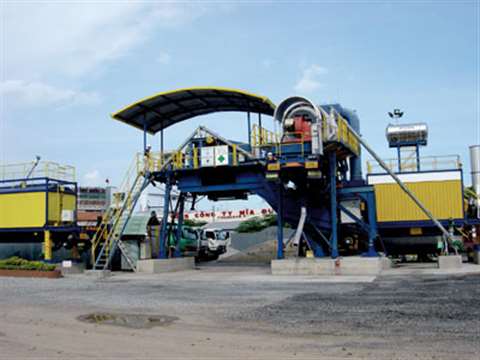 Japanese paving contractor World Kaihatsu Kogyo (WKK) decided to transport a portable batching plant from Cambodia to Vietnam's Ho Chi Minh when it was appointed as a sub contractor to Obayashi Corporation on the city's East-West Highway and Water Environment project.
The scheme comprises a tunnel under the Saigon River and construction of a 13.4 km road running from District 1 to Binh Chanh District. Eventually, the East-West Highway and Water Environment Project will provide a 21.9 km road running through the city, including the tunnel under the river.
WKK originally bought the 100 tonnes per hour Linnhoff TSD-1500 mobile asphalt plant in 2005 for a project in the Cambodian capital Phnom Penh. However, moving it to the Ho Chi Minh scheme did not present a problem. "The contractor simply separated the plant into its four component sections, namely the cold feed hopper, the screen drum, the weighing and mixing unit, and the baghouse and control room. Each of these four units is equipped with integral axles. All that the contractor then had to do was to haul each of the units behind a prime mover," said Linnhoff general sales manager Lee Y M.
Despite the size of the modules, the 22 km journey was made in three days. "Costs were minimal, especially compared to what would have been paid if an asphalt plant had been sent by sea or if it had been a stationary asphalt plant," said Mr Lee. It was only a week between the plant being decommissioned in Phnom Penh and it being up and running again in Ho Chi Minh.