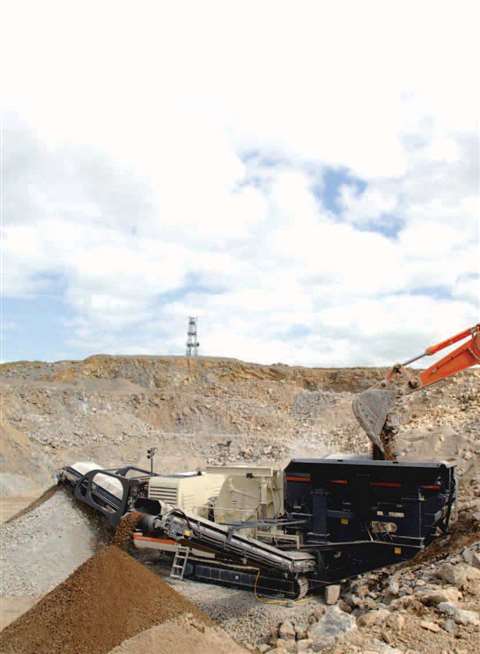 Innovation in the crushing and screening sector means that the performance and efficiency of mobile equipment now rivals that of larger stationary units. These developments, along with the growth in the crushed stone market, are helping to drive demand for mobile machines. Claire Symes looks at the sector and the latest equipment launches.
Growth in the Construction Sector, combined with record mineral prices, have helped take the crushing and screening sector from recession to boom in three years, according to Metso Minerals. The company's figures suggest that the total world crushing and screening equipment market is worth around US$ 3,6 billion (€ 2,8 billion) a year and demand for crushed stone is growing at an unprecedented level.
Metso Minerals president Bertel Langenskiöld told CE, "Between 1992 and 2002 the growth in demand for crushed stone in Eastern Europe has increased by +2 and +3% each year. Now it is currently at around +4,5% and likely to continue growing at that rate until 2012. Demand elsewhere in Europe is also rising."
UK-based Fintec, which is part owned by Sandvik, also believes the prospects for the crushing and screening market are good. "The sector is growing by around +7 to +8% at the moment and we expect is to continue at that rate for at least another five years," said Fintec managing director Hubert Watson. "The markets in Western Europe and North America are mature but the growth is likely to come from the emerging markets of Eastern Europe, Russia, Asia and Africa."
To meet the growing demand Fintec has recently expanded its Northern Ireland factory to 18500 m2. "Our workforce has grown from 56 people a couple of years ago to over 200 and some parts of the factory are operating three shifts to keep pace with orders," said Mr Watson.
Metso Minerals is also expanding its production capacity with a € 5 million investment in its Finland factory in Tampere and construction of a new factory to serve the US market in Columbia, South Carolina. Improvements at Tampere will include +25% more production space, a new testing laboratory and more offices. The US factory, which is due to open towards the end of this year will initially produce around 200 units per year for the North American market.
Mobile Revolution
But it's not just the level of demand that is changing, the type of equipment which is in demand is also changing. Mobile crushing units are growing in popularity and gaining market share from the more traditional stationary machines, particularly in construction where around 90% of crushing equipment is now mobile. "The trend towards mobile equipment is growing across Europe," said Metso Minerals marketing manager Eero Hämäläinen.
According to Fintec's Mr Watson part of the reason for this trend is that innovation in the sector means that mobile units can now compete with static units in terms both of productivity and quality. "Around 95% of Sandvik's business was for static units but the company could see that mobile equipment would become an increasingly important market and acquired Fintec to help it meet this demand.
"The trend was triggered by some of the bigger quarrying companies, such as Tarmac and Lafarge, which did not want to invest in expensive static plant when the aggregates market was in a volatile state. These bigger players preferred to outsource processing to give them a fixed cost per tonne and remove labour costs, and the contractors wanted mobile plants which they could take to the customer."
Mr Hämäläinen added, "One of the bigger barriers to the wider use of mobile plants has been noise and we have focused on addressing this issue. The latest generation of our Lokotrack crushers are quieter than ever before, our Trellex screens have rubber elements to cut noise transmission and we can also fit covers over the feeder and motor to further reduce noise."
The other added benefit of mobile plant is the reduced transport costs from taking the crushing and screening plant to where it is needed rather than taking the material to the plant. In quarries, this means that plant can be moved close to the working area, cutting haul times, but for the recycling sector, mobile plant allows demolition waste to be processed on site and reused in the redevelopment process.
"Recycling is still a relatively new market for the crushing sector but is one that will become increasingly important," said Mr Watson. "The high cost of landfilling demolition waste means that more and more material is being processed for reuse."
Reconstruction of Zurich's Letzipark Stadium - home to FC Zurich - in Switzerland is one of a growing number of projects around Europe which is placing greater emphasis on recycling. The stadium is being redeveloped for the European Football Championship in 2008 and will provide room for 25000 seated spectators and have a capacity of 50000 for open air concerts.
Demolition contractor Richi & Co has been charged with the task of processing all the demolition waste and material excavated for reuse during the reconstruction. Richi is using a fleet of crushing and screening equipment from Rubble Master to process the 280000 m3 of material and meet the project's tight grading specifications.
The contractor is using a Rumble Master VS80 heavy duty screen to remove material above 63 mm diameter and a CS3600 double deck screen to split the material into three sizes: 0 to 8 mm, 8 to 16 mm and 16 to 32 mm. Oversized material from the VS80 is fed into a Rubble Master RM80 compact recycler to re-grade it to between 0 and 32 mm before being fed into the CS3600. The carefully graded recycled material is being reused in concrete produced on the site for construction of the new stadium.
According to Metso Minerals, recycled material, or secondary aggregates, account for less than 3% of the 19 billion tonnes of aggregate which is used worldwide each year. These figures suggest that there is plenty of room for growth in the recycling market.
Crushing and screening equipment manufacturers are clearly expecting growth in this sector and there have been a number of machines launched specifically for this market.
The first model in Terex Finlay's new impact crusher range, which is aimed at the recycling sector, was unveiled at Intermat in Paris, France in April this year. The 34 tonne I-1310R crusher is the first in a series of new models which will be launched during 2006. Quarry specific models will also be available.
The I-1310R features a 1 by 1 m Krupp Hazemag APP1010GA impactor chamber and is mounted on a heavy duty undercarriage for on site mobility. The machine is available with either a 5 or 8 m3 hopper feed which is made from 10 mm Hardox steel and includes and integral pre-screen. According to Terex Finlay, the machine is ideal for the recycling sector because it features an integral under crusher vibratory feeder below the crusher chamber which discharges onto a 900 mm conveyor.
Like a number of new crushers for both the quarrying and recycling market, the Cat C9 powered I-1310R is fitted with advanced electronics. The crusher's CANBUS compliant electronic control system offers the user five simple operating modes and a graphical user interface. Other options on the new range include an overband magnet, a belt weighing function, radio remote control and a by-pass conveyor.
One of the latest mobile impact crushers to be added to the product line of Austrian-based Kormann Rockster is the R700, which is designed for use on smaller scale recycling on urban sites. The crusher is driven by V belt pulleys and a hydraulic clutch and the rotor is available with three or four blow bars. The machine weighs 14,5 tonnes and measures less than 7 m in length, 2,3 m in width and 2,6 m in height which Kormann claims makes it very easy to transport.
New Equipment
Outside of the recycling sector, the strong growth and changing demand of the crushing and screening sector is also being met by manufacturers through the launch of new equipment. The majority of new machines are mobile units and feature innovations which are helping contractors to achieve higher throughputs from mobile plants than ever before.
Terex Pegson's latest jaw crusher - the X400 - is designed as a high capacity primary crushing unit. The tracked machine, which replaces Pegson's best selling Premiertrak crusher, has a number of features to improve productivity and enhance maintenance. These features include a stronger feed hopper formed from 15 mm heavy-duty Hardox steel, a hydraulic release to prevent overload and better crusher drive access.
The X400 is powered by a 172 kW C9 Caterpillar engine, which Pegson claims offers better fuel efficiency and has enabled the oil changes to be extended to 2000 hours.
Extec's updated version of its C-12 mobile jaw crusher, the C-12+, is also powered by a Cat C9 engine and was unveiled at Intermat alongside the company's new I-C13 tracked impact crusher. The C-12's hydraulic jaw operation, vibratory feeder and reverse crushing action have been enhanced with the addition of a Vogel central greasing system, computer designed web and flange chassis, 'Copperhead' bearing wear management system and an extended tail conveyor for greater stockpiling.
Extec also launched a new mobile cone crusher, the X44-SBS, at Intermat. The crusher itself is a 410 tonnes per hour capacity Telsmith 44 SBS supplied by Astec's Aggregate & Mining Group, and power for the machine comes from a Caterpillar C13 diesel engine.
Sandvik has added the Crawlmaster CM4800i to its mobile crushing product range, which features a high capacity Hydrocone H4800 crusher. According to Sandvik, the CM4800i is a flexible secondary crusher aimed at hard rock applications.
The 'i' in the CM4800i's name stands for intelligence and the machine is fitted with a system to give full control of the process. The system provides the operator with continuous information about the current production and will also store the production history and traces faults. The crusher is also fitted with the ASRi crusher control system which monitors the load on the machine to give improved results.
Sandvik's subsidiary Fintec has also added to its mobile crushing capabilities with the launch of the F1080 cone crusher at Intermat. The machine features a C3 cone, supplied by Sandvik, and offers a throughput of up to 200 tonnes per hour. "The size of the F1080 makes it easy to transport so it is ideal for the contracting market," said Mr Watson. "We have already got orders from India and Finland for the machine."
Metso Minerals' new Norberg HP4 cone crusher was also launched at Intermat but the company secured several sales in advance of the official unveiling. Two of the crushers are already in use in a Spanish quarry owned by Ofitas de San Felices (see CE's site report on p52). The HP4s have been in use at the site since early 2006 and are currently processing up to 250 tonnes per hour for up to ten hours a day.
Metso Minerals has also launched a special edition range of its Barmac VSI crushers which are manufactured in New Zealand. According to the company, the SE range has new features which improve performance, reliability and serviceability. These include changes to the crushing chamber and the cascade feed system.
"The quality of the crushed rock is becoming increasingly important," said Mr Hämäläinen. "The cubicity of the finished product is essential for applications such as road construction and the changes to Barmac's SE range have enhanced the ability to control the final aggregate shape."
Screening
Like crushers, the trend in screens has been towards compact, versatile units capable of working in a number of environments, such as quarries, construction sites or construction and demolition waste recycling stations.
Powerscreen International's mobile Chieftain 2100 Triple Deck, for example, is capable of an output of up to 500 tonnes per hour (depending on mesh sizes and material types) and features a 6 by 1,55 m triple deck screen unit for optimum efficiency in screening quarried materials. It features heavy-duty, low ground pressure crawler tracks and is both agile and manoeuvrable around the site.
Hartl Powercrusher has also launched a new heavy duty screening plant. The HCS 6015 has twin 6 by 1,5 m screening decks but, the company claims, despite its size the screen is still easy to transport and operate. The 4 m wide tracks provide stability during use but can be reduced to under 3 m for transportation.
Just as important is the right screening media system, and with the huge number of companies that make screening systems, it is hardly surprising that there is such a diverse range of consumable screening media available on the market.
However, Metso Minerals hopes to change all that with its new Trellex range. The heart of the system is what the company describes as 'upgrade strips' - polyurethane adaptors that mount onto a screen's existing rails. Different variants are available to match the range of fixing systems in the market, but they all have the same top profile, which matches the company's new range of modular polyurethane and rubber screening media modules.
These modules are produced to fit the four standard widths, and are easy to change by hand - they simply snap in and lock to the top rail of the adaptor strip. This is a very user-friendly system compared to some, where changing screening media could take days if they are fixed in by pins that would need to be drilled out.
At first glance, this would seem to be adding to the problem by introducing yet another fixing system into the market place. However, Metso Minerals makes the point that after the one-off expense of the upgrade strips, an entire screening plant, or even an entire company will have standardised its replacement needs, regardless of the diversity of its fleet of screening equipment.
Sandvik has also launched a new modular wear protection system for use on screens produced by both Sandvik and Fintec. The system uses dual hardness rubber to offer a longer service life and make it lighter and easier to handle. According to Sandvik, because the system contains no steel, worn out liners can be recycled. Sandvik's newly launched CM 4800i is the first crusher to feature the new system.
Further Growth
The prospect of further growth is not only resulting in manufacturers increasing their production capacities and launching new models but is also attracting new players into the market. Two of the newest manufacturers in the crushing and screening sector are Austria-based DSB and Germany's Kloeckner.
DSB was launched at the end of 2005 and the company's range includes three mobile impact crushers and two mobile screens. The Caterpillar engine powered Innocrush impactors are available as 30, 35 or 50 tonne machines with radio remote control as standard. DSB's Innoscreen range can be adjusted in terms of flexibility and capacity and can be used alone, in combination with the Innocrush impactors or with other manufacturers equipment.
Kloeckner's first new product is the KS 3012 screening system and the first one is already being used by Germany-based contractor Theilmeyer at its site in Alverkirchen, Germany. The system has a 1,2 by 2,5 m screen surface and is available with an optional primary screen to pre-separate larger material and aerate the material prior to screening.
If the crushing and screening market continues to expand at the rates predicted by Metso Minerals' Mr Langenskiöld and Fintec's Mr Watson, it is likely that these newcomers will be joined by others in the next few years. But with so many players in the market there are also likely to be some acquisitions and mergers too.