Mobile screening – Digital development
Powerscreen has been making major developments with digital offerings in recent years with its Pulse Telematics System and Omni, described as a cutting edge safety solution and launched in 2019.
The new Chieftain 1700X Hybrid boasts a highly aggressive screenbox with a patented 2/4 bearing drive system and improved screening angle. Growing on the Powerscreen legacy of high performance four-bearing screen boxes, the 4.87 x 1.52 m (16 x 5 ft) screenbox maintains the screenbox size and mesh of the current Chieftain 1700, but with increased screening force.
After listening to customers, a number of other plant changes have been implemented, such as changing the way the fines conveyor is suspended for easier transport as well as self-tensioning side conveyor sealing rubber and feed-boot improvements for quicker set up, Lower running speed for reduced fuel usage without compromising power combine to give what is described as an unrivalled machine.
The three-deck machine is available with a hydraulically folding extended auxiliary conveyor, complete with a transfer conveyor that allows easy recirculation with the entire range of Powerscreen crushing machines. Alternatively with a quick valve change the conveyor can run in reverse, effectively turning the machine into a two-deck screen, allowing maximum versatility with a single plant.
Hybrid option is an alternative energy source
The Powerscreen Hybrid option gives customers an alternative energy source, letting them choose which fuel to use depending on cost, location and availability. This option will be of special interest for customers in areas where electricity is more cost effective than diesel fuel and on sites where electricity is the preferred energy source. Powerscreen Hybrid machines are fitted with an additional electric/hydraulic drive system which can be connected to an external electricity supply once the machine has been set up on site.
It will be shown at the ConExpo event in Las Vegas, USA, from March 10 to 14, and Powerscreen global product line director Sean Loughran said: "ConExpo is the perfect platform for us to showcase our new innovations and products to the market.
"We have been making strides in recent years with our digital technology and will have something special on the stand to showcase our offerings. Powerscreen staff and distributors are looking forward to meeting with customers to discuss the features and benefits of our extensive product portfolio."
The Danish port of Frederikshavn in the Nordjylland region is the administrative seat of the municipality, which extends for about 85 km (52 miles) along the Baltic coast to Skagen. Recently it has seen a major project for Belgian equipment manufacturer Keestrack.
Road and civil engineering department Park og Vej is responsible for the municipal traffic infrastructure and its 130 employees are also responsible for recycling construction waste.
Coarse mineral construction rubble is stored temporarily at its central yard and is periodically processed by a crushing contractor. Another 10,000 t of soil and excavation bulk are treated annually using the department's own processing technology. Until last year, a mobile 6 x 2 m (20 x 7 ft) drum screen has been in use, but this changed to horizontal screening technology and the Keestrack K5e mobile scalper.
It had opted almost immediately for an electric drive concept but did not want to renounce the flexibility of a mobile plant so the equipment would still be versatile to work on the central yard, decentralised depots or large construction sites.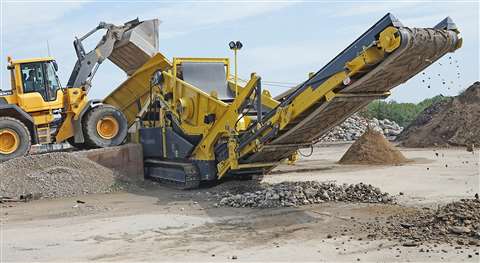 "We tested a wide range of offers on the market – the diesel-electric full hybrid plug-in concept from Keestrack seemed to us the most mature," said Gert Christensen, who is responsible for application technology and the equipment fleet at Park og Vej,
"Here, it was not just about building on an additional engine, but the whole process has been electrified very thoughtfully. In full electric operation, all system functions are available without any performance or functional limitations.
"In conventional diesel-powered operation, we benefit from the independence of the track-mounted screen with significantly lower fuel consumption and emissions."
With a weight of around 30 t, the K5/K5e series represents the mid-range of Keestrack's scalper programme, consisting of six models.
An extensive choice of screen media for the 5,000 x 1,500 mm (196 x 59 in) double-deck screen box and the hydraulic adjustable screen angle, guarantee a wide range of applications – from highly efficient rock scalping to soil processing with a capacity up to 450 t/hr, from screening construction waste to the production of marketable end products in three fractions.
Like all Keestrack scalpers, the K5 series is optimised for transport: all conveyors and other components can be hydraulically folded for low-bed transport (width 2,600 mm or 102 in) – on site, the unit without support legs is quickly operational.
Materials for reuse
Also in Europe, a series of 167 improvements is currently underway around the southern ring road of the Finnish city of Lahti. One of the main contractors for the project, Skanska, has added a new tool to its armoury in making the work as efficient, cost effective and environmentally friendly as possible. Allu DN Series Transformers have been successfully put to work screening excavated materials for reuse on the project, boosting the environmental credentials and efficiency of the project.
Given that the project has impressive environmental credentials that will not only improve the infrastructure, but will also lead to a higher quality of life for residents, the way excavated materials are treated has been an important concern on all the sub-projects. One of the main contractors, Skanska Infra, has been using Allu DN Series Transformers for landscape purposes, helping to create noise reducing embankments and to mix soil for planting.
The Allu Transformer comprises of an attachment which screens, crushes, aerates, blends, mixes, separates, feeds and loads materials. This results in the feed material being effectively transformed into highly valuable products, making operations on the project more efficient, and more profitable.
At the heart of the Transformer is the unique top screen of its bucket. This is where the screening blades spin between the top screen combs with the end material size being defined by the space between the combs.
Effectively these screening combs carry most of the material weight to ensure the drums and bearings take on less impact and load.
The use of the machine has been pivotal on the ground works and landscaping operation on the southern ring road project.
Following excavation the material is collected and its usability is analysed, then screened and mixed using the Transformer to provide a smooth soil mixture.
After that, the ready to use soil is spread where it is required, ready for any planting. In the latter case, the construction of sight and noise barriers, as well as reaffirming the environmental credentials of the project, sees reforestation as a key part of it.
Operating on smaller sites
Astec Mobile Screens has announced the launch of a new compact product range said to be ideal for operations on smaller sites.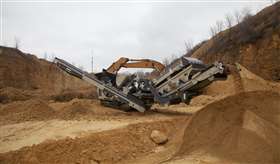 The Ranger line will comprise tracked models including jaw, impact and cone crushers, as well as incline screens and trommels.
Marketed for the construction, landscaping, quarrying markets and the rental sector, the compact equipment will be available through the manufacturer's network of licensed dealers.
Earlier, Kolberg-Pioneer added a two-deck, 1.21 x 2.13 m (4 x 7 ft) pre-screen option to its FT4250 mobile impactor plant. The new option allows producers to scalp the feed, crush the material and post-screen all on one unit.
By pre-screening the feed, users can maximise their scalping ability and minimise the amount of undersized material passing through the chamber, reducing wear costs and increasing final product by 30%.
Article first published in the March 2020 issue of Demolition & Recycling International