Mobility and flexibility - the latest in mobile screening
By Lindsay Gale15 April 2009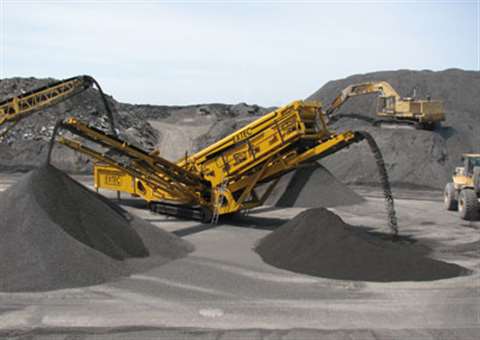 Traditionally, static plants have led the both the crushing and screening businesses, but the evolution of mobile units and the flexibility they offer is shaping the future.
"Our perception and firm belief is that fixed plants will continue to grow because there's a demand for them to produce more and more material, but the mobile segment will grow faster," said Arvid Svensson, business development manager at Sandvik Mining and Construction.
"Investment in static plants during hard times is not so attractive, so I think this too will benefit the mobile industry," continued Mr Svensson. "Technology is developing and mobile capability is much better today than it was 15 years ago."
Pat Brian, global sales director at Terex Pegson, also sees growth for the mobile sector, "One dynamic that we think is important, and that underpins much of our strategy, is that we see the mobile segment getting larger in terms of equipment size and hence eating into the larger quarry and mining segment that currently operates static installations."
"We see a transition whereby ultimately there will be a 50:50 split between static and mobile plant," continued Mr Brian.
Brian Pauley, marketing manager at Terex Finlay, echoes the sentiment, "In the long term, I firmly believe that the mobile crushing and screening market will continue to grow as customers require short term solutions for smaller projects. Mobile units are also ideal for operators who need to boost the capabilities of their existing static operations."
"There's greater flexibility with tracked units, and our belief is that this flexibility will become an increasingly strong driver," said Mr Pauley.
"Our main business is in demolition and all of our products have been designed specifically for demolition type duties, but the RM100 - our largest machine to date - could also operate successfully in quarrying situations," confirmed Harald Windner, sales manager at Rubble Master.
"Regards our demolition products, we recently launched an update for our OS100 four comb cascade screen to increase throughput. Also, we are now able to run the RM100 in close circuit with the TS3600 screen to be able to produce two screened materials without oversize."
"In demolition, it's becoming increasingly important to get a high throughput with a really high quality end product," Mr Windner said. "The needs for quality are sometimes higher in recycling than they are in the natural aggregate sector."
Environment
While component recycling can have a positive environmental impact, crushing and screening plants are facing ever more stringent planning regulations in order to lessen environmental impact. "Environmental concerns are a real issue," Mr Svensson said.
"To get a permit for a new installation these days is quite a task. Noise reduction is becoming increasingly important and plant height can also be an issue," said Mr Svensson. "Also, we now have to give greater thought to making a landscape beautiful after leaving, and perhaps most significantly we have to minimise atmospheric dust."
"Dust and noise encapsulation is very important for the future. It is not so difficult to encapsulate the crushers and conveyors and put filters on the exhausts, but the points at which you discharge from a conveyor have historically been areas susceptible to wind-blown dust.
"What we've done is to develop a telescopic chute with an intelligent sensor at the bottom end so that the chute is only ever a few centimetres above the stock pile. This way, the exposure to wind is considerably reduced and we've managed to achieve a significant reduction in dust," said Mr Svensson.
"In the US and now the rest of the world too, asbestosis has been a very big issue. I will not compare the dust from a crushing and screening plant to asbestosis - that would be like comparing food with a poison - but still, it's not healthy to inhale dust."
"I think Sandvik's made great strides in dust encapsulation and I certainly believe that dust management is going to be a key driver for the sector in the future."
Something new
SBM Mineral Processing put its Remax Eco and Remax Maxi into production in 2008 following previews at Bauma and the company is already promising further updated models for 2009, which it will show at the MAWEV show in Austria in March.
"We believe that recycling will continue to be topical," said Anna Maria Berger, marketing manager at SBM. "Further developments of our successful Remax series along with the installation of an optimised control system will present customers with increased output capacity, reduced energy consumption, reduced maintenance costs and increased profitability," said Ms Berger.
In November, Powerscreen launched its dual power screens to give users a choice between electric and diesel power. "The choice of an alternative energy source provides an option to avoid recent fuel price increases and addresses legislative environmental requirements," said Mr Brian.
Maskin Mekano launched two new screens in 2008 in the shape of a S1403 mobile three-decked screening station with four onboard stockpiling conveyors and also a compact LS302 screening plant.
The S1403 features Maskin Makano's innovative screenbox, which has an aggressive stroke and is almost horizontal, while hydraulic jacking legs and conveyors mean that the unit can be set-up in minutes. Electric drive, an effective three-decked STE screen and rapid swap design all lead the Swedish company to proclaim that 'there is no longer any reason not to choose a mobile screening solution.'
The electric drive compact LS302 is equipped with an STE 2-26 double-deck screen and the aggressive stroke prevents plugging.
Again featuring Maskin Makano's almost horizontal screenbox, the LS302 is ideal for the precise division of small material and a frequency controlled feeder designed in collaboration with Skako Comessa means that the LS302 is particularly suited to handling wet and sticky material.
What next?
The pace of development in mobile equipment over the past 12 months has accelerated and more is already promised for 2009. "There are pressures facing the industry, but we've set ourselves up for the long term with focussed research and development on new products," said Terex Finlay's Brian Pauley.
"As a result, we're continually bringing new products to market and strengthening our position and reputation. We have product offerings for mining, quarrying and demolition, so we're well represented across all sectors and I can confirm that during 2009 we will bring new machines to market," said Mr Pauley.
Similarly, Terex Pegson will be launching new products in 2009. Pat Brian said, "2009 will represent the most ambitious new product introduction programme that we've ever undertaken in volume of new machines. Terex Pegson is going to be introducing five new crushers while Terex Powerscreen will introduce four new screens.
"They're all already in design and are due for launch between the end of the first quarter and the early part of the fourth. There are three new machines in particular that will take us into the large tracked segment," confirmed Mr Brian.
Future growth
Population growth and increased urbanisation means that aggregate consumption will continue to increase. Whether this originates from quarrying or recycling is almost irrespective, as the end result remains the same, an increase in production.
"We feel that net growth will be attainable and that mobile will continue to take market share from static," said Terex Pegson's Pat Brian. "I also think we'll see emerging markets playing a much greater part than ever before."
Put more succinctly, Arvid Svensson of Sandvik simply declares, "The future's bright!"