Model 5 for Hans Lehmann
By Laura Hatton25 September 2014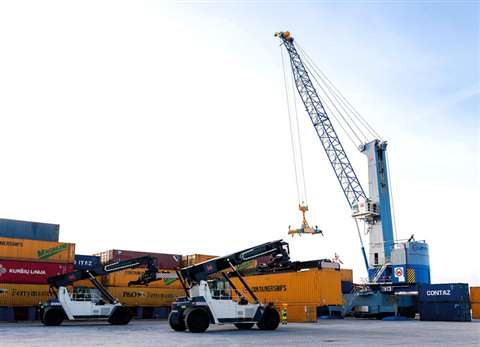 Harbour operator Hans Lehmann KG (Lehmann) has ordered a diesel-electric G HMK 5506 Terex Gottwald Model 5 mobile harbour crane.
It will join another Model 5 and three Terex reach stackers that the company ordered last year. It will be used for container handling, ship loading and unloading equipment of vessels with up to ten container rows at the Lübeck Cargo Terminal in Hamburg, Germany.
The Model 5 crane has a lifting capacity of 125 tonnes, a 51 metre working radius and lifting speeds of 120 metres per minute. The cab offers a 22 m viewing height for the crane operator. The Model 5 is also offered with a high tower variant. Changes include an increase in the boom pivot point from 16.7 to 21 m and the viewing height of the crane operator has been raised to 26.3 m.
Holger Lehmann, managing director, said "Both the first Terex Gottwald Model 5 mobile harbour crane and the three Terex reach stackers have more than fulfilled our expectations in their first few months. All the machines contribute to improving our performance in container handling and in handling heavy and bulky project cargo. So it is a logical decision to opt for TPS, also with a view to a further expansion of capacities."
Klaus Peter Hoffmann, TPS vice president and managing director, said, "This renewed decision in favour of TPS indicates confidence in our technology. The order also shows that the Model 5 crane has been quick to find its market."