Modern 19th century construction calls for JLG booms
By Lindsey Anderson09 November 2010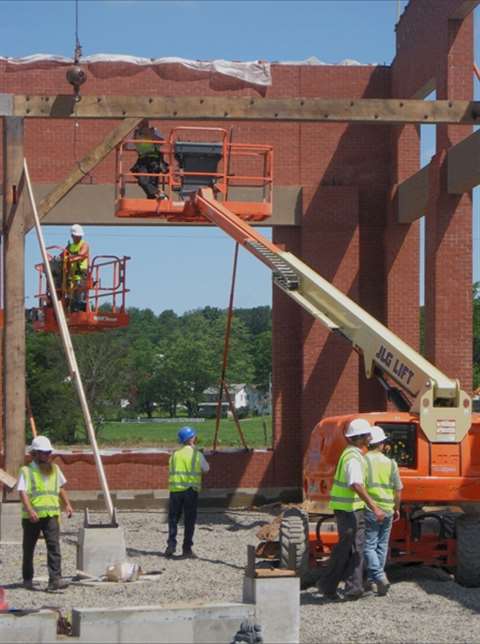 Jerry Joe and Laura Jacobson had a big problem on their hands. The pair owns one of the largest private collections of steam locomotives, historic diesels and vintage coach cars in the world and they needed a place to protect, repair and display them.
To better accommodate their collection, the Jacobsons set up a non-profit foundation and acquired 36 acres of farmland in the heart of Amish country near Sugarcreek, OH. It was there that they began planning to build a full-scale, operating railroad roundhouse with turntable, storage tracks, store house, coaling station, ash pit, wood water tank and a fully equipped shop to overhaul, repair and maintain the collection. Dubbed the Age of Steam Roundhouse, this would be the first full-sized, working roundhouse built in the U.S. since 1951.
To help make his life-long dream a reality, Jacobson contacted Bob Brode of W.M. Brode Company, a contracting and engineering firm that has specialized in railroad bridges, wharfs, docks, pile foundations and industrial and commercial buildings since 1887, to work with chief engineering officer and project manager, John C. Dulac.
To facilitate the engineering and replication of original construction techniques from a century ago, Dulac worked with a group of local Amish craftsmen and other skilled workers.
After many months of planning, site work began during late 2008 on the 115-foot long turntable and its circular turntable pit, plus the 18-stall, brick roundhouse and maintenance shop. Construction on these will be completed during late 2010 and mid-2011 respectively, while other buildings and structures will be finished during Phase 2.
A focal point of the project is the roundhouse with its 53,000-square foot roof. This structure is supported by traditional timber frame construction using rough sawn 12x12 and 8x8 white oak beams set on concrete capped pilings. Special "cup" supports in the walls were fashioned by the brick masons to hold the ends of the purlins. The intricate system of roof trusses was constructed using tightly fitting mortise and tenon joints held together with hand-hammered, 12-inch oak pegs.
The unique construction of the roof required craftsmen to spend an inordinate amount of time working in an elevated position above the roundhouse floor. After consulting with Henry Beachy of Holmes Rental Station it was decided that telescoping boom lifts were the ideal solution.
The boom lifts that Holmes Rental Station provided were JLG Model 600S machines. Featuring more than 60 feet of vertical platform height to easily reach the overhead areas when positioned on the roundhouse floor, they also had the capability of reaching almost 50-feet horizontally so they could be positioned outside the roundhouse and still reach many overhead areas. With 360 degrees continuous turntable rotation, a platform capacity of 1,000-pounds throughout most of its working envelope and a built-in generator providing 110-Watt power in the platform, the JLG 600S was the ideal machine for the job.
In addition to the JLG 600S boom lifts, Holmes Rental also supplied a number of JLG Model G10-55A telehandlers to the project. These 10,000-pound capacity machines can lift a load 55-feet in the air and have a 42-foot telescopic reach. They are used extensively for placing roofing materials, lifting bricks and mortar onto mast climbing platforms, and moving a variety of materials around the jobsite.