Modular bridge reassembled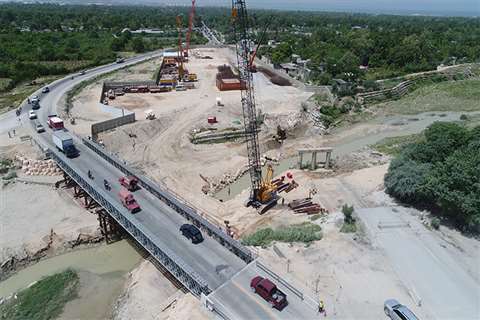 International bridge engineering and supply company, Acrow Bridge, has announced that one of its bridges was re-installed as a critical detour structure during construction on Route Soleil 9, a road in the capital of Haiti, Port-au-Prince.
Until its recent move, the same bridge had served for two years as a temporary crossing several hundred meters away, as construction plans for a permanent concrete bridge were finalised.
The route is a vital transportation link and one of the most congested in the metropolitan area. On average 10,000 vehicles a day, including heavy commercial traffic and emergency responders, use the crossing.
Prefabricated components allowed for a one-week installation of the dual-span structure as a temporary fix in 2016, and when construction on the permanent bridge began a detour was needed. The structure was said to be easily disassembled, transported and reassembled to avoid interruption to traffic.
The two-lane bridge is 60.96m long and 7.35m wide. It includes a 1.5m footpath on one side and has an epoxy deck surface. The structure is said to be virtually maintenance free, designed to support heavy loads and to withstand severe weather conditions for a service life of 75 years or more.
"Designed for fast assembly and disassembly, the modular bridging system can be used over and over again," said Paul Sullivan, senior vice president, International, at Acrow Bridge. "The versatility of the structure allowed for the two major spans to be lifted individually by crane and moved to the new location within hours."