Modulift and Pewag join forces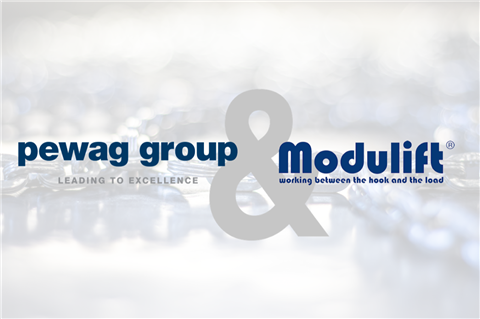 Austrian chain company Pewag and UK-based below the hook equipment and rigging engineering specialist Modulift have announced a "strategic alliance" between the two companies.
The deal was signed on Friday 26 June and the terms were undisclosed. "This partnership will leverage each company's unique strengths and assets to expand customer reach, as well as to promote the service to a higher level," it said in a Modulift statement.
Both companies will continue to operate mutually independentently, Pewag said, but "will work together on specific joint new research and development projects to further enhance customer benefit."
Ägyd Pengg, Pewag group managing director, said, "adding the know-how, products and services of Modulift to our existing range of lifting devices is a perfect match. Aligned through our shared vision for the highest quality products, passion for innovation and globally renowned brands, we are moving forward into the future working together to keep the lifting industry safe."
Sarah Spivey, Modulift managing director, said, "Combining forces to strengthen our products and markets around the world, we will be increasing our global distribution network whilst continuing to offer unrivalled levels of customer service."
Modulift said it will be "looking to expand our network where currently we do not have partners and, offer products and services where it is considered beneficial." Modulift distributors around the world will be offered an opportunity sell Pewag product.
As one of the oldest chain manufacturers in the world, Pewag group can trace its roots back to the 15th Century and it is now home to several brands of safety-related equipment. It offers a wide range of products to a large number of industries through a partner network in 105 countries.
Modulift offers off-the-shelf spreader beams, lifting beams and spreader frames and also custom-designed heavy lifting equipment. Established in 2002, Modulift said it also offers technical expertise with the design and manufacture of specialist lifting equipment tested to the highest worldwide standards.