Monaco's new 'eco' district takes shape
By Joe Sargent22 October 2019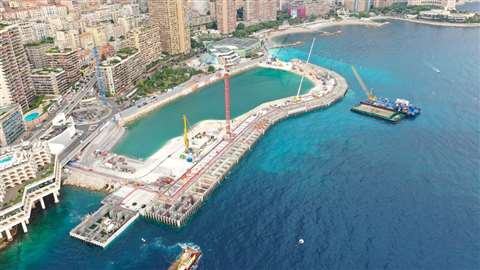 Work is underway to install approximately 750,000 tonnes of quarry sand, as part of a plan to extend the shoreline and build a new 'eco' district, known as L'Anse du Portier, in Monaco.
The sand will be used to fill the space between the caisson belt and the shoreline using two bulk carriers to carry out this operation.
The caisson belt is a protective barrier-type structure 500 metres in length, comprising of 18 concrete "boxes". These individual blocks are assembled 200m from the coast of Monaco and will protect the new district from the swelling nature of the sea waves.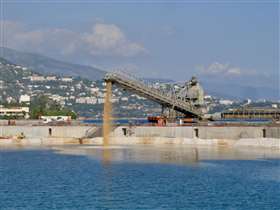 The wave power is intended to be absorbed by damping chambers on the wall membrane. The effects of climate change have also been considered in its design to protect against the different scenarios created rising sea levels.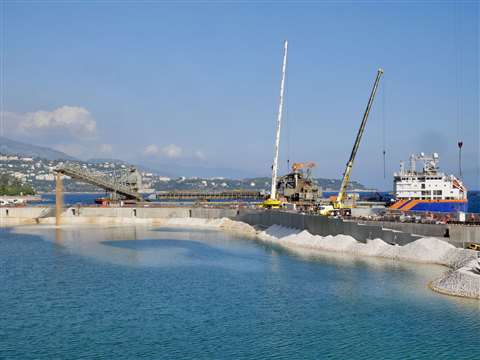 The contract is being carried out by French firms SAM L'Anse du Portier and Bouygues Travaux Publics. The work of spreading the sand is expected to take around two months to complete.
Each of the caissons are formed into a trapezoidal structure, 28 x 33 meters side, 26 meters high, and weigh 10,000 tonnes when empty.
Once ballasted and in their final position, each box exceeds 20,000 tonnes. At the bottom, at least 20m below the surface, the caisson belt rests on a seat embankment and emerges six meters above the waves.
As the project is in an urban marine environment, measures have been taken to ensure the structure has minimal environmental impact on the surrounding area.
The belt of submerged caissons has been designed as a habitat for marine life, while material shifted from the site has been relocated to areas aimed at encouraging underwater ecosystems.