Monopile loading with 1,600 tonne Liebherr
By Alex Dahm17 November 2020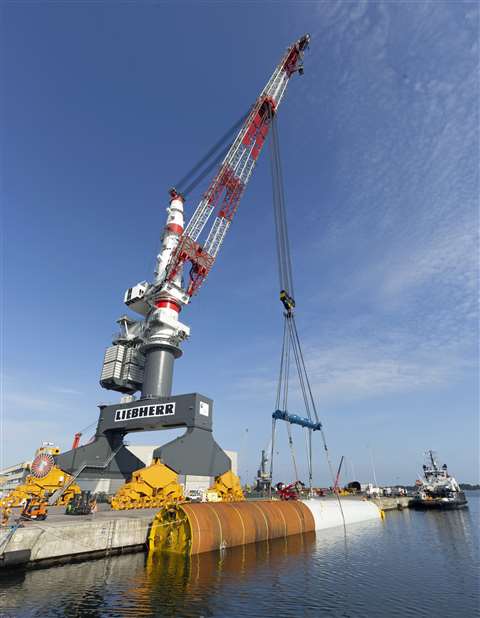 At the port of Rostock in north Germany Liebbherr has a 1,600 tonne capacity rail mounted heavy lift gantry crane, primarily for its own use loading and unloading ships, now available to external customers.
Its first job in this capacity, completed in September, was to load 72 foundation piles for Denmark's largest wind farm. Working for EEW Special Pipe Constructions GmbH in co-operation with turbine manufacturer Vattenfall, the TCC 78000 liftead the monopiles from the quayside onto a ship.
Maximum capacity of the TCC 78000 on its twin lattice boom is available to a radius of 36 metres. Also on the main hoist, it will lift 1,000 tonnes at 52 metres and 586 tonnes at 75 metres. Capacity on the first auxiliary hoist is 250 tonnes at 90 metres while the second auxiliary hoist does 25 tonnes at 105 metres. On the main hoist the maximum lifting height is 112 metres at a radius of 34 metres. It runs on a 420 metre track along the quay at the port.
In a phased programme of delivery the loaded ships headed out to the Kriegers Flak site in the Baltic Sea where heavy lift vessel Svanen was used to install them for contractor Van Oord.
Commenting on the job Heiko Mützelburg, EEW Special Pipe Constructions managing director, said, "We are pleased about the successful completion of the loading activities of the monopiles for the Baltic Sea wind farm Danish Kriegers Flak. In Liebherr we have a strong and reliable partner at our side and are convinced that we will continue to move great things together in the Rostock seaport in the future."
Prior to lifting the monopiles, two openings in the tubular part were sealed with plugs by Van Oord Offshore Wind Germany. Using the TCC 78000 they were then lowered over the quay wall to float in the water. Several factors made them different from everyday lifts. Adding the plugs to the conical structures shifted the centre of gravity longitudinally. Careful planning was therefore necessary.
With the monopiles afloat in the berth a deep-sea tug then took over to pull them the 70 nautical miles towards Kriegers Flak. Two tugs were in constant rotation Liebherr said.
The company's lifting team has since booked its second lifting project from an external customer. In October Krebs Korrosionsschutz, also based in the port of Rostock, used the crane to lift a steel construction weighing 260 tonnes from a ship onto a barge.
Udo Wosar, head of heavy lift management at Liebherr-MCCtec Rostock, commented, "The lifting capacity of the gantry crane in conjunction with the optimum conditions for heavy-duty handling at our location is in demand. We are also increasingly handling supra-regional and international customer enquiries."
See a video of the monopile lifting job here: https://www.youtube.com/watch?v=GpN6UaXmUzE