Mont Blanc project for Fassi
By Laura Hatton27 April 2015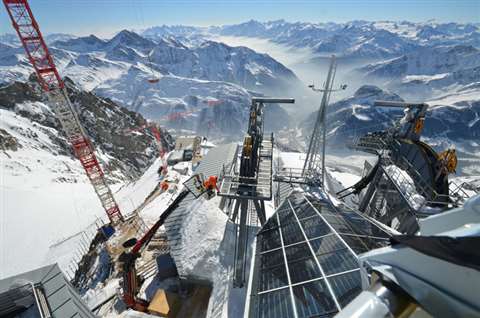 Italian company Cogeis used a Fassi F425RA e-dynamic crane with jib, winch and platform to carry out work on the new €105 million (US$ 113 million) Mont Blanc cable-car system in Italy.
Cogeis is part of the Cordée Mont Blanc consortium, which completed the work for Funivie Monte Bianco.
The F425RA was used to help install the last arrival station, 3,466 metres above sea level. Work included handling materials at the upper station and installing the metal structures alongside a pair of tower cranes. The model worked in challenging conditions, including wind speeds of more than 70 km/h and temperatures down to minus 30 degrees Celsius.
Rossano Ceresoli, Fassi Gru head of research and development, said, "The aim was to identify a crane configuration that would meet the specific needs of the construction site, taking full advantage of the versatility of the machine. As well as using it on the Mont Blanc construction site, the customer had requested that the crane could be subsequently installed on a commercial vehicle. This is how we identified the best solution to be the F425RA.2.24 e-dynamic crane model coupled with the L324 jib and equipped with winch and platform."
Work at the site started in April 2011. Other work for the Fassi crane was installation of lift shafts that connect the Punta Helbronner arrival station with the tunnel down to the Nuovo Rifugio Torino. It was also used to install reinforced steel during cement casting and to help construct a two-storey station structure, steel girders and crossbeams. For the final stages of the project, the Fassi F425RA crane was fitted with a work platform basket for tightening the bolts and installing doors, windows and solar panels.
The Mont Blanc Cable-Car System project is due for completion in June 2015.