Morbark launches new Boxer mini-skid steers
By Joe Malone01 March 2017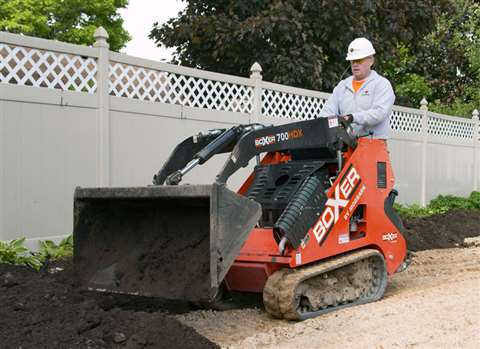 US-based manufacturer Morbark has launched two new Boxer mini-skid steers at The Rental Show in Orlando, US.
Both models – the 600HD and 700HDX – are designed to reduce hand labour and the costs of operating, so the user can be more efficient.
New features to the models include a redesigned platform with hip padding to provide extra comfort for the operator. Other new features include a dual hydrostatic operating system, piloted joystick controls with rocker-activated auxiliaries, a rubber-isolated engine and hydraulic components.
The 600HD has a 1.8m hinge pin height and has a tip capacity of 799kg. It is powered by an 18.5kW diesel engine, which produces 11.3gpm of auxiliary hydraulic flow from the single remote auxiliary lines.
Meanwhile, the larger 700HDX features a unique hydraulically expandable undercarriage — from 0.9m to 1.11m — allowing the operator to retract the undercarriage for passages as narrow as 0.9m wide. The model features the same engine as the 600HD.
The Boxer mini-skid steers will also be painted in Morbark's orange to integrate them in its other product lines. Morbark acquired Boxer Equipment in 2013 from Mertz Manufacturing.
Casey Gross, Morbark's director of tree care products, said, "Morbark continues to usher in a new era of Boxer equipment with the 600HD and the 700HDX.
"We've given them a wealth of new or redesigned features to make it ideal for landscapers, contractors, rental organisations or property owners who want to more easily perform a wide range of tasks."