More Demags for Titschkus & Wittrock
By Alex Dahm24 March 2018
The Wittrock Group of crane rental companies in Germany has ordered two more Demag all terrains. Another two Demag AC 250-5 ATs will join the fleet which already includes another pair of the same model, one working in Stuhr and the other in Bavaria.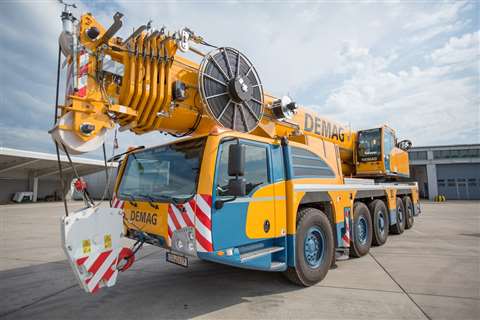 Dennis Würdemann, Terex Cranes area sales manager who sold the cranes to Marcus Wittrock, said that the two cranes will be delivered later on in 2018. Explaining his choice of crane, Marcus Wittrock said, "It's simple: There is no other crane in this capacity class that can meet our needs better than the Demag AC 250-5. And the price-performance ratio is just perfect."
The Group comprises Titschkus & Wittrock, Herrmann & Wittrock, and Kaiser & Wittrock and it operates nationwide. It was founded in 1970 by Klaus Wittrock and others in Stuhr, Northern Germany, as what is now Titschkus & Wittrock. Services include mobile crane and heavy haulage logistics, heavy assembly services and plant relocations. More than 150 wheeled mobile and crawler cranes make up the fleet in lifting capacities up to 650 tonnes. Transport equipment includes more than 80 units with payloads of up to 250 tonnes. More than 370 people are employed.